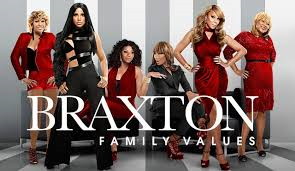 The new cable TV season for the Valder Beebe Show will feature celebrities from network TV for summer debut shows and cable's new season.
The Braxton Sisters are Back is touted as "Guilty Pleasure Gold" by Entertainment Weekly, Braxton Family Values begins its fourth season on WE tv beginning August. However, the sisters' lifelong dream of recording a family album is threatened due to hurt feelings and broken bonds. In the premiere episode, bad feelings quickly resurface leading to an all-out explosion that threatens not only their album plans, but the entire Braxton family unit.
Traci, Trina and Towanda Braxton discuss what viewers can expect from this emotional new season, why tensions have been running high between them, and their efforts to repair their relationship in the hopes of making their dream of a family album a reality.   Tune in Trina also sings a signature song direct to Valder Beebe on camera.
The Valder Beebe Show THAT CELEBRITY INTERVIEW  and The Valder Beebe Show  broadcasts on web site networks and streaming on-demand Video Networks; BBNetwork, OPNTVNetwork, YouTube.com, BlackMenInAmerica, HipHopNational reaching over 12M viewers quarterly.