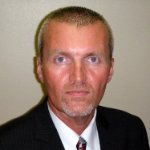 The City of Garland is enhancing its redevelopment and business attraction efforts, and has hired David Gwin to head its Economic Development Department. Mr. Gwin is a nationally certified economic development professional who has more than twenty years of successful experience in several Texas communities with significant accomplishments in retail, commercial and residential redevelopment, public/private development partnerships and neighborhood reinvestment programming. He will begin his duties as Economic Development Director on Oct. 6.
"We are excited to have David join our team to help us meet our Grow Garland goals. We expect the City will greatly benefit from his expertise in the coming years," said Garland Mayor Douglas Athas.
Mr. Gwin is currently the Executive Director of the Schertz Economic Development Corporation and during his tenure there led efforts that brought more than $300 million in new capital investment to that community. A few of his career project successes include a 1.3 million-square-foot Amazon fulfillment center, a major medical/healthcare campus, a regional convention center and a retail/commercial reinvestment program that resulted in $14 million in new taxable sales during its first year. Mr. Gwin began his career with the City of Garland as an urban analyst in the Planning Department and has also held positions with the cities of College Station, Carrollton and Arlington.
Mr. Gwin is recognized by the International Economic Development Council as a Certified Economic Developer (CEcD), by the American Economic Development Council as a Certified Economic Developer (CED), by the Council for Economic Development as a Professional Economic Developer (Ec.D.) and by the American Planning Association as a Certified Planner (AICP). For the International Economic Development Council, he is currently a member of the International Advisory Committee and a past member of the Certification Committee. Mr. Gwin earned both Bachelor of Arts and Master of Science degrees from Oklahoma State University.
The City of Garland's Economic Development Department works with the Garland Chamber of Commerce and the Garland Independent School District as the Garland Economic Development Partnership to recruit and retain quality business and industry to the city.