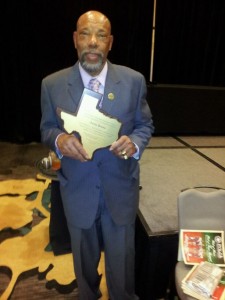 By Andre Johnson, NDG Contributing Writer
Recently, Dallasite Leroy "Lumberjack" Brown, Jr. took time to reminisce about his tenure in the National Football League in the mid-1960s with the North Dallas Gazette.
Although it was a brief career, it was nevertheless noteworthy.
Brown was invited to the Washington Redskins' camp in 1966, months after his stellar career at Wiley College before a left knee injury reduced his effectiveness and ultimately ended his playing career.
It is, in fact, because of his immense contributions as a football standout that the 70-year-old Houston native was the beneficiary of yet another worthy honor.
A former star defensive end for Houston's Yate High from 1959-62 who was named All-City and All-District during his illustrious prep career, Brown was inducted into the Prairie View Interscholastic League Coaches Association Hall of Fame during a recent ceremony that took place in San Antonio.
At a ceremony that adopted the theme, "Remembering The Past With Pride," Brown was in honored, primarily because of his memorable senior campaign at Yates during which he became an integral part of a team that advanced to the state championship game in 1961 against now-defunct Austin Anderson High.
"I remember that year we played for the championship," Brown said. "(Anderson High) was a black high school, which is closed now. That was a great experience playing for the state championship because the whites had their state championship."
As Brown recalls, Yates had reached the state finals 53 years ago essentially was the beginning of change for predominantly black public institutions, something his former coach, the legendary Andrew Pat Patterson hinted during his pregame speech to his players.
"Coach Patterson told us it won't be long before blacks and whites will be playing against each other and playing football together," Brown said. "Of course, we thought he was playing. Because all we did was went to schools with blacks. But he said it'll happen in the near future."
Organized in the 1920, as a result of a meeting between members of the Colored Teachers Association and L. W. Rogers, the first assistant state superintendent of education (or the Division of Negro Schools), the Texas Interscholastic of Colored Schools (TILCS) was formed as the governing body for athletic and academic competitions for the state's black institutions.
The PVILCA was officially established in 2005 during which the nonprofit organization began naming players to its annual Hall of Fame induction.
For Brown, a resident of Dallas since 1970, that he became one of 28 former football players inducted this year is something about which he deems gratifying.
"It's a great feeling to be inducted into the Hall of Fame, especially after coming out of high school in 1962 and still being recognized," Brown said. "I got the word about it in January."
Following a stellar career at Yates, Brown was recruited heavily by Prairie View A & M University and Texas Southern University, two Houston-based historically black colleges. However, he chose to attend Wiley College in Marshall, Texas, in large part because his parents were from that town.
"When I played at Yates, I had roots in Marshall, Texas," Brown said. "That's the reason I chose Wiley College. Of course back then, you didn't get recruited by white colleges. It wasn't like it is now. A majority of your black players went to black colleges."
A little more than six decades removed from having faced segregation as a student athlete, Brown is appreciative of how much the game has changed, particularly with regards to racial equality.
"As far as the game, football is football," Brown said. "And football has always been big in Texas. But as far as integration, you can go to any college you want to."
In addition, Brown said he commends University of Texas officials for electing to hire Charlie Strong as head coach. The first black head coach of any men's team at Texas and currently the only black head coach in the Big 12, Strong in January replaced Mack Brown, who resigned less than one month prior to the Longhorns' appearance in the Alamo Bowl.
"To tell you the truth," said Brown, "I never thought I'd see a black head coach at Texas. "As a matter of fact, Texas was one the last major colleges to recruit black players. And to see Charlie Strong go there, I was really impressed. Charlie is a good coach. He did a good job at Louisville.
"But you still had some (Texas supporters) with that redneck mentality," Brown continued. "They still didn't want a black coach. They said he had the credentials to a coordinator. But there's more pressure on him to win because he's a black coach. He has a strong personality. He's a disciplined coach."
Brown, who spent a number of weeks in the Redskins camp in 1966 before re-injuring his knee, also sounded off about the ongoing controversy surrounding the name change of the franchise. According to a poll released August 2 by The Washington Post,a large majority of Americans believe the team should not change its name.
"I'm kind of split on that," Brown said, when asked if the Redskins should change the name of the team. "They've had this name for so long. But I can understand how this would be offensive to the Indian nation. So I'm kind of divided about this issue. Now, people will find things to object to. The society now sees it more as an issue."