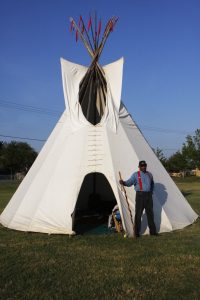 Dorsey Elementary School got a head start on November's Native American Heritage Month celebrations with a special visit from the Tipi Tellers Oct. 20. The North Texas-based group fascinated students with ancient tales, tribal music and two majestic tipis.
"I have been waiting eight years to set this up," said librarian Rhonda Simpson. "Storytellers are amazing. They bring history and folklore to life. As a librarian, nothing is more important than stories. For the kids to get the experience of being inside a tipi like Native Americans, I think that is something memorable. That is why I wanted to do this. I wanted the kids to experience something they would never forget."
During the visit, students learned about Native American culture and heard narratives from three Tellers while inside a tipi. The storytellers covered American, Native American and Texas history, as well as folktales. Tipi architecture was also discussed, revealing the fact that the structures at Dorsey were not made of buffalo skin, but sailboat canvas. They took 17 trees to construct and housed up to 55 kids as well as four adults.
In the works for nearly a decade, this entertaining, scholastic event came with a daunting cost of $1,800. But Simpson's determination coupled with the work of Dorsey's PTA made the six-hour event a reality.
"I raised money with the book fair and Principal [Debra] Chisholm donated a portion, but that still was not enough," Simpson said. "Our current PTA has been so supportive with the library and reading, so I approached them last year. I asked if it was possible to save some of the budget to help make this dream come true. Our wonderfully active PTA pulled in almost $800 of the cost. That is why we were able to host this event."
Although the parent-teacher organization footed a large portion of the bill, PTA President Laura Watkins believes it is the Wildcat community that is responsible for this one-of-a-kind event.
"We could not have programs like the Tipi Tellers if we did not have family support and fundraisers," Watkins explained. "We really appreciate our school's support so we can have wonderful programs like this."