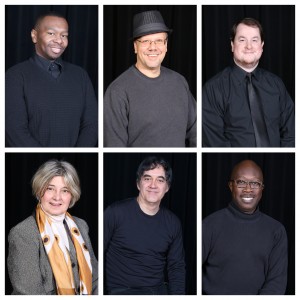 By Ruth Ferguson, NDG Editor
Six plays in less than three hours, there is bound to be a dud in the mix right? Well, after watching the 13th Annual New Play Competition hosted by TeCo Theatrical Productions, Inc.  at the Bishop Arts Theatre Center last Friday night, that is not true. Every single play was engaging, entertaining and the performances were great.
Hats off to the producer of the show for the way they presented the order of the plays, starting with heavier themes in the first two before a lighthearted and funny segment before the intermission. Then following the same format in the second act. In both instances, it allowed the audience to walk out on an upbeat which increases enjoyment of the experience.
The plays are no longer than 20 minutes each, but it was plenty of time for these skilled writers and performers to tell their story. The list below is alphabetical to avoid tipping my hand of my favorite.
Antay Bilgutay (Lather, Rinse, Repeat or: The Dating Game) This story was actually the last in the show, and the audience enjoyed watching Drew go through several unsuccessful dates. The men he met were bizarre and over the top, until he finally meets someone that is charming and more his speed. It is witty, funny and charming look at the struggles daters of all stripes go through.
Victor Bravo (Hikers) Kurt is enjoying a hike he visited once before decades earlier, and encounters a young man a little lost and thirsty. A pleasant chat uncovers an interesting connection between the two. The audience will walk away wondering, if I could, what would I….
Ruth Cantrell (7-10 Split) Lois Lanes, a drag queen who did look MARVELOUS OK, looks back on the advice his late grandmother offered and her support when rejected by others. She was the wind beneth his wings.
Paul William Engle (Perchance to Dream) Imagine if President Barack Obama's press secretary (or better yet President Obama himself) stood up at a press conference and said what he was really thinking. It might go a little something like this. Interesting topic at hand is not what is happening in Washington, it is closer to home in Texas – capital punishment.
Sam Green (Can I Call You Daddy?) Mama gotta a new man, her daughter is happy for her, very happy for her. But her mentally disabled son is not singing a happy tune. In such a short period of time, the performers bring to live the words of Green to show how you can run from the pain of your history, but it is usually never buried as far as you think.
Buster Spiller (Nappily Ever After) This is oh my goodness funny, Birdie Brooks is a woman on a mission to marry off her daughter because she is ready for some grandbabies. And if her hard headed daughter Alfreda can't find a man, Mama will! Now Daddy ain't too impressed with the choice, but between his hair and President Obama obsession he is not quietly sitting in the corner without making his views known. Will the blind date woo Alfreda as easily as he has Birdie? Time will tell…
I love the Bishop Arts Theatre, it is spacious enough to feel roomy and substantive but intimate enough that you can truly study the faces of the performers. It simply adds another element to the experience for the audience in my opinion. Watching the courtships and the heartbreaking disappointments you feel as if you are peering into their windows, if not in the room.
There is $1,000 on the table for the playwrights, because after all this is a competition. They each did such a good job of giving a voice to their characters pains and joys. The performances began last weekend, and will end March 1. Now comes your part: at the end of every show the attendees have an opportunity to put their ballot in the box on who they feel deserves to be declared the winner of the competition. Nope, I won't tell you my choice – but I will tell you that there is truly not a single one that is undeserving. That is why at the end of the day the real winner is the audience!
Hats off to TeCo for spotlighting such talented writers. See for yourself this weekend and cast your vote for your favorite! Tickets are available at www.teoctheater.org or by phone at 214-948-0716. Showtimes are 3 p.m. and 7:30 p.m. Please check the website for exact time.