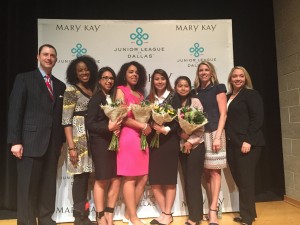 DALLAS – March 30, 2015 – Four deserving Dallas Independent School District high school seniors are one step closer to pursuing their dreams of higher education as the Junior League of Dallas (JLD) and Mary Kay Inc. announce the recipients of the second annual Women LEAD (Learn • Excel • Achieve • Dream) Scholarship Program. On March 26, 2015 at Emmett J. Conrad High School, two of Dallas' most respected women's organizations partnered to award $25,000 in scholarships to four female students to create opportunities for future women leaders.
"It is an incredible honor to be able to award our second annual Women LEAD recipients in collaboration with Mary Kay. We hope these scholarships will allow these women to further their education and become one step closer to pursuing their dreams. Education is one ofthe League's main areas of support, and we look forward to seeing the impact it will have on their lives and future," said President of JLD,Julie Bagley. "We are also excited to see how the program will grow each year with new recipients. This program directly reflects ourmission to develop the potential of women and we are eager to see the influence it will have on our community."
Established in 2013, the scholarship program is inspired by company founder, Mary Kay Ash, who started the now iconic global beauty company more than 50 years ago with just $5,000 Mary Kay has led the way for millions of women worldwide to pursue their dreams.Ten Conrad High School student finalists prepared a short speech based on the founding principles of Mary Kay Ash and the essay topic,"their dream beyond college and how they could accomplish it with $5,000." A panel of judges selected four winners based on theirscholarship application, community involvement, academic record and speech presentation.
With a passion for leadership and serving her country, first place winner Emili Quintero will receive a one-time
$10,000 scholarship. She will attend Texas A&M University in the fall and hopes to major in business management. Following graduation,Emili plans to enlist in the military. Second place winner Emily House, third place winner
Sung Mawi and fourth place winner Belem Soto, will each receive a one-time $5,000 scholarship. House plans to attend the University of Houston and major in physical therapy. With a passion for helping those in need, House believes this is her way ofgiving back to the community. Sung Mawi will attend the University of Texas at Austin to pursue a degree in accounting. She ispassionate about math and serving others and would like to use her degree to guide and advise the community. Last, but not least, BelemSoto also plans to attend Texas A&M University this fall. She hopes to major in wild life conservation and help make the world a betterplace. She aspires to become a scientist and hopefully be a part of National Geographic one day.
"We are so proud to see Mary Kay Ash's mission of enriching women's lives around the world come to life with the Women LEADScholarship Program and are honored to partner with the Junior League of Dallas for another great year," said Vice President ofCorporate Communications and Corporate Social Responsibility for Mary Kay Inc, Crayton Webb. "It has been truly inspiring to seethe seeds of success root through these scholarship recipients and we know great things lie ahead as we create opportunities todevelop female leaders in our community."
To learn more, please visit  www.jld.net.
About Junior League of Dallas
The Junior League of Dallas is an organization of women committed to promoting voluntarism, developing the potential of women andimproving the community through the effective action and leadership of trained volunteers. Founded in 1922, the Junior League of Dallas trains members for effective participation in the community and is dedicated to the belief that volunteer service is an essential part of responsible citizenship. Whether tutoring students, rocking infants, building homes orserving on non-profit boards and coalitions, the 5,000 Junior League members provide more than 130,000 hours of community service each year, while making sure that each donated dollar works its hardest to help those in Dallas who need it most. Active members range in age from 22 to 49 and 74 percent are employed outside of the home. For more information,please visit www.jld.net.
About Mary Kay Inc.
Irresistible products. Positive community impact. Rewarding opportunity. For more than 50 years, Mary Kay has offered it all. With 3.5million Mary Kay Independent Beauty Consultants and $4 billion in global annual sales, Mary Kay is a top beauty brand and direct seller inmore than 35 markets around the world. Discover what there is to love about Mary Kay by connecting with a Mary Kay IndependentBeauty Consultant at  marykay.com.