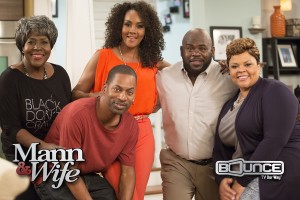 ATLANTA /PRNewswire/ — Real-life husband and wife team David Mann (House of Payne, Meet The Browns) and Tamela Mann (Madea's Big Happy Family, Sparkle) are reuniting on screen, as well as behind-the-scenes as executive producers, with the debut of their new family-friendly original sitcom Mann & Wife which premiered on Bounce TV this week on Tuesdays at 8 p.m.  (Click here to watch teaser.) The couple has lived in the Dallas area for several years.
In Mann & Wife, the devoted couple draws inspiration from their real lives to play newlyweds Daniel and Toni Mann. The series follows the second-chance sweethearts as they laugh and love their way through the ups and downs of life as a blended family, each with two children from previous marriages.
Life as they know it is turned inside out when Daniel, a police officer from Atlanta, and Toni, a school teacher from Dallas, meet on a dating site and fall in love. When they decide to marry and Toni moves into Daniel's house in the Atlanta suburbs, the honeymooners — along with their kids, two from each side — all have to adjust to their new lives together. They also have to deal with David's overbearing live-in mother and his jet-setting ex-wife.
In addition to the show's popular stars, Mann & Wife features a vibrant supporting cast: Vivica A. Fox, portraying Daniel's ex-wife; Tony Rock, playing Daniel's new partner; JoMarie Payton as Lorraine, Daniel's overbearing mother and Tiny Lister as Daniel's Sergeant and boss.
New episodes of Mann & Wife will premiere Tuesday nights at 8 CT on Bounce TV.