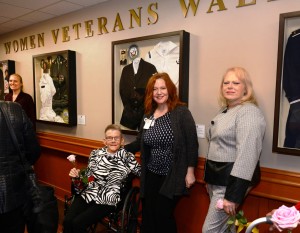 The Community Living Center (CLC) at VA North Texas Health Care Center recently unveiled a Women Veterans Wall of Honor, celebrating the service and sacrifice of our Nation's female Veterans.
"The goals of this project are to honor and recognize our women Veterans, educate them about VA services available to them, and ultimately, reduce the number of advanced gynecologic cancers in the aging, female Veteran population," said Geriatrics & Extended Care Physician Assistant Pam Korzeniowski, PA-C, one of the event planners. "This wall has been a labor of love from everyone who works here."
With uniforms and photographs donated by women Veterans who were either residents or employees of the Community Living Center, the five shadowboxes represent the five branches of the military.
"I was a resident of the Community Living Center on three different occasions," said 20-year Marine Corps Veteran Brenda Powell, whose service photo is featured in one of the shadowboxes. "Without the people who work here at the VA, I wouldn't be here today. That's a fact."
Women are the fastest growing group within the Veteran population and VA North Texas offers a variety of services designed to meet their unique needs. To reach the VA North Texas Women Veterans Program that advises and advocates for women Veterans and helps coordinate primary care and specialized care including reproductive health services, call 214-857-1938.