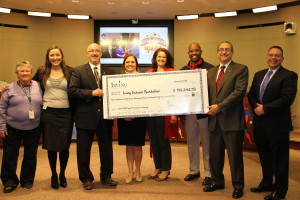 Every year, Irving ISD teachers and staff donate for a great cause – to support student enrichment and staff development.  Over the years, $2.4 million has been raised through the Irving Schools Foundation Payroll Deduction Campaign when employees sign up to have a portion of their paycheck donated.
"Since 1992, the Irving Schools Foundation has received generous support from our Irving ISD employees to help us fund scholarships for our students and classroom grants for innovative projects," says Irving Schools Foundation Executive Director Crystal Scanio. "We are so humbled by the fact that our staff is willing to put their own money into helping our students, and we feel that this show of support truly demonstrates that our staff is committed to student success."
This year Irving ISD employees raised more than $193,342 and had 66% participation district-wide. The top fund-raising schools per campus level and the amounts they raised were as follows:
Bowie Middle School, $27,063
MacArthur High School, $26,958
Good Elementary School, $9,233
Kinkeade Early Childhood School, $2,268
"We give because we believe in supporting our students and remembering those who have left a mark on our school," says Kay Branch, counselor at Bowie Middle School. Faculty and staff at Bowie Middle School have, over the past 10 years, established Irving Schools Foundation scholarships in memory of students or teachers and to honor cancer survivors. In the past three years, school staff has endowed three of their own scholarships—raising more than $60,000 to sustain the scholarships for many years.
Scholarships funded by this year's Payroll Deduction Campaign will be awarded during the Irving Schools Foundation 29th Annual Breakfast with the Stars on Tuesday, April 26 at the Irving Convention Center.