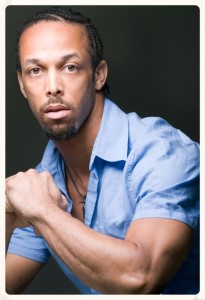 By Ruth Ferguson, NDG Editor
Jamal Story will once again delight the Dallas Black Dance Theatre's (DBDT) fans, presenting an aerial ballet as a part of their Cultural Awareness series this weekend. During a recent conversation with the North Dallas Gazette, Story shared his excitement about returning to the DBDT again.
"The relationship for me is old and very warm," Story shared. When asked about what drew him back to Dallas, he stated, "The big attraction for me is working with this company in any capacity. I have a long relationship with this company, going back to my freshman year in college at SMU." While earning dual degrees in Dance Performance and TV/Radio Communications, Story joined DBDT and had the unique opportunity to perform with the company at the 1996 Olympics in Atlanta. "When the company got that appointment they were in a position to hire extra dancers," and thus began his long relationship with DBDT.
Professionally, Story went on to travel the world performing with legendary singers such as Madonna during her 2001 Drowned World Tour, and with Cher as an aerialist and dancer on  her Cher's Living Proof: The Farewell Tour. And then New York City beckoned with an chance to perform in the Broadway production of The Color Purple. During the historic show, Story was a dancer and assistant dance captain.
It was during his time with Cher that Story began to discover aerial ballet, which he describes as a chance to explore integrating the floor with the air space. He stated, "I knew the choreographer would train us, but I did not know she would train me to be her partner!"
Story believed it was truly a God designed change in direction for his professional career. "I did not have aerial on my radar and this sort of happen to me in the best possible way. After three years on this tour and then three years in a Vegas show, I have now adopted aerial work as part of my creative existence," he shared.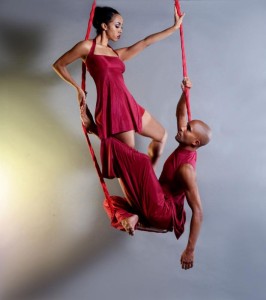 But that does not mean it was not scary! As Story joked, "Black people don't do heights!" But his faith spurred him on, "I have a lot of faith and I had to trust that God would not put me in a situation without the tools I needed to be safe. I have a lot of upper body strength, and a lot of physical discipline in my body. I was ready for the air space. and I had to trust that."
The creative artist in Story helps him to push the boundaries of aerial ballet continually exploring, "How can I incorporate this into concert dance, versus just in the realm it is usually used in," such as the Cirque du Soleil shows.
DBDT fans will have an opportunity to see Story's latest piece when DBDT dancers Kayah Franklin and Sean J. Smith perform in the dance The Parts They Left Out choreographed by him at the Cultural Awareness series Feb. 19-21 at the Wyly Theatre in Dallas Arts District. For ticket information, visit www.attpac.org,