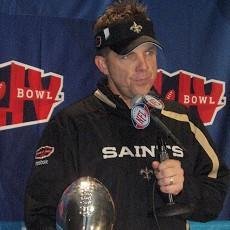 The murder of former Saints defensive end Will Smith has shaken up the franchise, the New Orleans community and the entire NFL. Now the White House is taking notice.
Saints coach Sean Payton offered an impassioned plea for gun control Monday, saying he "hates guns," and the notion everybody needs a gun is "madness."
The White House issued a statement Tuesday in regards to Payton's comments.
"It sounds like he's somebody who's speaking from a position of great tragedy," White House Press Secretary Josh Earnest said (via USA Today). "He clearly has lost a former player and someone who he's said publicly has meant a lot to him. There's a lot of pain and emotion in that quote, that expression."
Payton not only pleaded for more gun control in his interview with USA Today, he indicated a world without guns is preferred — but the White House isn't ready to go that far.
Click here to read more about Sean Payton's anti-gun plea