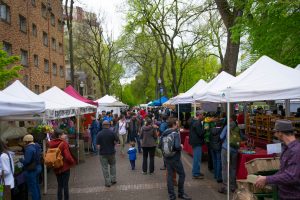 Washington, D.C. is the most expensive place in the country to raise a family of four—a fact that disproportionately harms the ability of low-income residents and residents of color to thrive. Inequities extend from job security and high-quality education all the way down to families' day-to-day ability to access healthy, affordable food.
While wealthy residents of D.C.'s Ward 3 have their pick of 11 full-service grocery stores, families in Ward 8—also home to some of the highest poverty rates and obesity rates in the city—are faced with only three options. To make matters worse, higher-end stores such as Whole Foods and Trader Joe's have cropped up all over the District's gentrifying neighborhoods. Instead of bringing access to affordable and nutritious food, the increased demand spurred by the stores can result in long-time residents being priced out of their neighborhoods.
This displacement has resulted in significant demographic shifts across the D.C. area. Until recently, black families comprised a majority of the city's residents—about 60 percent in 2000. But as of 2014, only 49 percentof Washingtonians are black. Black families who have been displaced from the city due to its high cost of living have been replaced by an influx of mostly white newcomers, along with a growing Latino population.
Gentrification in our cities isn't new, nor are the debates that surround it. But what is less discussed is how gentrification weakens displaced families' access to social services that are critical to achieving social mobility. In D.C., local organizations and advocates that work to bring food access to low-income families have watched the number of families they serve dwindle.
Read more here.