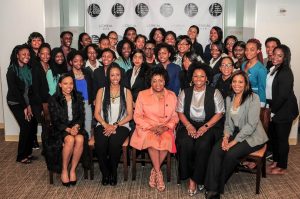 NEW YORK — For one week during Spring semester break, L'Oréal USA hosted 10 high school and 28 college students at its Fifth Avenue headquarters as part of its support for the New York Coalition of One Hundred Black Women's annual Role Model Program which allows young women to learn practical workplace skills and to shadow professional women in their chosen careers.
"Our theme this year was 'Engage, Educate, Empower'," said Cecilia Nelson, L'Oréal's Assistant Vice President of Diversity & Inclusion. "One of L'Oréal USA's core values is support for programs that empower women and girls."
L'Oréal USA's initial grant to the Coalition in 1999 enabled the expansion of the Role Model program beyond the borough of Manhattan, into Brooklyn and Queens, to students of Medgar Evers College and Queens College. The program has further expanded to include York College, LaGuardia Community College, John Jay College of Criminal Justice and now also includes high school students from Women's Academy of Excellence in the Bronx and Ayana GEMS a professional development group.
"In addition to our multi-year partnership, we are proud to have awarded more than $15,000 in scholarships annually to the Role Model program students," Ms. Nelson noted.
"We had another exceptional program this year and from the early feedback of the participants, we have definitely exceeded our goal of helping these young women to be their best selves and to embrace their power as they chart their unique paths," said Avalyn Simon, President of the New York Coalition of One Hundred Black Women.
The students participate in an intensive series of professional and personal development workshops to expose them to the realities of the workplace. During the week, the college students spend two full days with mentors while the high school students attend cultural presentations, which this year included visits to the National Museum of the American Indian, WBLS-FM, and an "Immersion" at ESSENCE magazine.
The students also screened "The Dinner Table," a documentary intended to redefine the narrative for women of color in media, and they participated in a panel discussion with the film's director Asha Boston.
The Role Model program has some notable success stories among former mentees who return to the annual event to encourage and provide an example of the benefit of the program to the students. Natalee Facey, an advertising professional who participated in the Role Model Program in 2010 spoke at the opening ceremony; Raven Robinson, also a 2010 participant, was a panelist following the documentary screening and Kemoy Harris, MD who participated in 2007, addressed the young women at the closing ceremony
The 2016 program began with "Have A Beautiful Day," a skin care, hair care and make-up presentation featuring L'Oréal USA brands Carol's Daughter, Soft Sheen Carson, Garnier and Maybelline New York, followed by a "Dining Etiquette" workshop facilitated by L'Oréal's Director of Food Services and Event Planning, Aleksandar Kiprovski. On succeeding days, L'Oréal USA hosted interactive workshops and presentations on "Dress for Success" presented by Keara Richardson, an attorney and fashion consultant; Social Networking: "Brand You," presented by Shanice Parker, CEO, Blitz Productions; and "Money Matters," presented by Sandy Smith of Say Yes Media; and "The Dinner Table" Documentary workshop by Asha Boston, President and CEO of Passion Fruit Vineyard Productions. Special guest appearances were made by popular fashion and beauty bloggers Claire Sulmers founder of Fashion Bomb Daily and Deepica Mutyala of Deepicam.com.
The week of workshops and job shadowing culminated with a closing ceremony, program review and scholarship presentation including a keynote address from Jo-Ann D. Rolle, Ph.D., Dean of the School of Business at Medgar Evers College, City University of New York who noted that, 'often individuals give up too easily.' She recalled her personal struggles, almost failing out of high school, taking ten years to complete a doctorate in Economics while working a fulltime job, caring for her family and running a business. She said that she never expected life to be fair or for the playing field to be level and advised the young women not to give up: "Don't stop short of your blessing by giving up too soon." She encouraged them to search deep inside themselves for their competitive advantage, to discover their personal strength and assets and to leverage it for success.
Drew Beaubian from City College of New York won first place for college scholarships, second place was awarded to Candice Samuels of Queens College, and tied for third place were Mildred Vil from City College of New York and Sade Amour Mirabel from John Jay College of Criminal Justice. The Edna Payne Davis scholarship was awarded to Allison Cooke of City College of New York.
Kendra Dennis of the Ayanna GEMS won first place in the high school essay competition, second and third place winners were Estefany Dominguez from Women's Academy of Excellence and Keturah Santiago of the Ayanna Gems.
The Role Model Program is co-chaired by Cheryl Green-Foster, Second Vice President – Programs and Sharon Long, Advisory Board. Committee members are Dorothy Burch, Terry Epps, Joy Flynt, Laura Green, Barbara Kairson, PhD., Lakisha Odlum, Yvonne Sterling and Marily Warren.