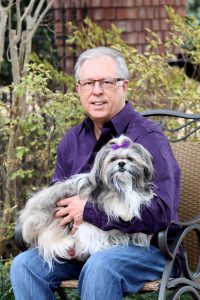 A mysterious illness led David R. Hardiman on a long path of physical, mental and emotional turmoil. Then Bailey, a smart, intuitive and loving shih tzu, became his best friend, service dog and hero.
In the recently released Christian nonfiction book "Bailey's Remarkable Plan" (Brown Books Publishing Group), Hardiman shares his story of faith and perseverance. Born with a rare medical condition that eluded diagnosis for decades and later coupled with post-traumatic stress disorder, Hardiman sometimes questioned God's plan for him. When Bailey entered his life as a puppy, Hardiman received a gift from God – one with a purpose and a plan.
"She's a beautiful, genius dog who can recognize when I am about to suffer an attack," Arlington-resident Hardiman said.
Bailey alerts Hardiman, and she helps him deal with the horror.
"Bailey's Remarkable Plan" also cautions against judging those whose disabilities aren't obvious. Hardiman said service dogs and their owners often face challenges in public because people don't understand nor recognize federal and state laws that protect people with disabilities and their service animals.
"Throughout my life, I've faced struggles and illness," said Hardiman, an entrepreneur and businessman. "Others' disabilities may be more obvious, but that doesn't make my disability any less real."
Hardiman said people are more accepting of service animals in public places than in the past, but more education is needed. People scream at Hardiman that he doesn't have a service dog or that he can't have Bailey with him regardless of the laws.
Hardiman said that's why the book's message and information are so important.
"As we live longer and face more health issues, more people will rely on service animals," he said.
For more information about "Bailey's Remarkable Plan" and to purchase books or e-books, go to BaileysRemarkablePlan.com. It's also available on Amazon and Barnes and Noble's websites.
Hardiman and Bailey welcome speaking opportunities. To schedule an event or to receive an autographed copy of the book, email BaileysRemarkablePlan@gmail.com.
"This book and my life are a testament to God's power and the blessings he offers," Hardiman said. "My story clearly defines by my life why it is so important to never give up, regardless of the difficulties and barriers that can be placed in the way of success. Taking the negatives and turning them into momentum can change the future to a positive."