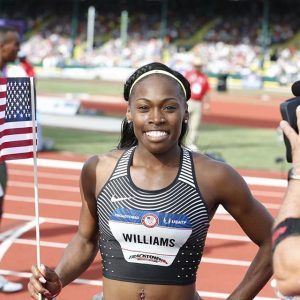 The Olympic Games in Rio de Janeiro, Brazil, are exciting times for us supporting the teamUSA. Learn who is not just representing our country, but also representing us from the Dallas/Fort Worth area.
Chrishuna Williams (born March 31, 1993):
Sport: Track and Field / Event: 800-meter
Chrishuna currently lives in Dallas, Texas. She is a NCAA Division I All-American for the Arkansas Razorbacks (University of Arkansas) and transitioned from running 400 meters to 800 meters in 2015 as a senior. She hit the mark of 1:59.59 in 800 meters, July 4th of 2016, to stamp her passport to Rio de Janeiro.
Her majors are human development and life science.
The women's 800 meters first event is on Wednesday, Aug. 17, at 8:55 am. Semifinals are on Thursday, Aug. 18, at 7:15 p.m and the finals will be on Saturday, Aug. 20, at 7:15 p.m.
Madison Kocian (born June 15, 1997):
Sport: Gymnastics
Madison is a native Texan, from Dallas, artistic gymnast. 2016 Rio Olympics will be her first Olympic games representing the U.S women's gymnastics team. But she has plenty of experience with international competitions; Madison is the 2016 U.S uneven bar silver medalist and 2015 U.S uneven bar champion.
Madison still resides in Dallas, Texas, and went to high school at Spring Academy in Plano, Texas.
Madison started killing it already! She was the first in the qualifying individual event of uneven bars with the score of 15.866. Madison will be competing in the individual event finals Aug. 11 at 2 p.m, and also in the women's uneven bars final Aug.14 at 2:20 p.m. The women's team final is  Aug. 9 at 2 p.m.
Courtney Okolo (born March 15, 1994):
Sport: Track and Field / Event: 4×400 meter
Courtney was born in Dallas, Texas. She currently resides in the city of Carrollton, Texas. She ran for the University of Texas and set an American collegiate record in the 400 meters when she won the Big 12 Outdoor  Championships with the mark of 50.03 seconds. Courtney has represented the US at the Pan American Junior Championships of 2013, in the NACAC championships of 2015, and in the World Indoor Championships of 2016 in Portland, Oregon.
She majored in exercise science and minored in African and African Diaspora studies.
The first 4×400 relay in on Friday, Aug. 19, at 6:40 p.m and the final will be on Saturday, Aug. 20, at 8:00 p.m.
Michelle Carter (born October 12, 1985):
Sport: Track and Field / Event: Shot Put
Michelle is a University of Texas graduate and 2006 National Collegiate Champion that resides in Ovilla, Texas.  The Olympic games are not new to Michelle; she has competed in the 2008 Olympic Games, and she finished fifth in the 2012 Olympic Games in London. She just won a gold medal at the World Indoor Championships of 2016 in Portland, Oregon, and earned a bronze medal in the World Championship of 2015 in Beijing, China.
Michelle's father, Mike Carter, won a silver medal for shot putting at the Los Angeles 1984 Olympic Games, and he played professional football for the San Francisco 49ers.
The qualifications for women's shot put is Friday, Aug. 12, at 8:05 am and the final will be in the same day at 8:00 p.m.
Jackie Galloway (born December 27, 1995):
Sport: Taekwondo  / Weight Class: +73kg
Jackie resides in Wylie, Texas. She attended Wylie High School before going to Southern Methodist University (SMU). Jackie is a first-time Olympian representing the Team USA, but she has extended international competition experience. She won a bronze medal at the World Championship of 2015 in the -73kg weight class, earned a silver medal at the 2015 Pan American Championships in the +73kg, among many other impressive results.
Jackie is majoring in mechanical engineering.
Women's over 67kg Taekwondo will be competing all day Saturday, Aug. 20, starting with the round of 16 at 7:00 am.