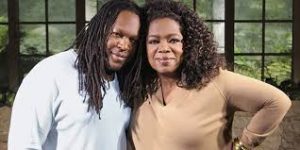 Comerica Bank in partnership with Everfi and the National Association of Black Accountants – DFW Chapter will host a free financial literacy and empowerment series on Saturday, Aug. 20 from 10 a.m. – 12 p.m. at the Highland Hills Library, 6200 Bonnie View Rd in Dallas.  Shaka Senghor, bestselling author and nationally recognized TED Talk speaker, will deliver a message designed to resonate with all in attendance called, "Your Worst Deeds Don't Define You.
Senghor is a leading voice in criminal justice reform and author of The New York Times bestselling book, Writing My Wrongs, a memoir that chronicles his journey of redemption from committing murder as a teen and serving time in prison to becoming a college lecturer, author and director's fellow of the MIT Media Lab. Senghor has been featured in numerous media outlets, with Oprah Winfrey referring to her interview with him for Super Soul Sunday as "one of the best I've ever had—not just in my career, but in my life. His story touched my soul."
Presented by Comerica, the Empower Series is a FREE monthly financial coaching and counseling workshop series. Each month, a local or national guest speaker is brought in to share inspiring stories of empowerment and tips on various financial literacy topics.
"We're honored to bring in a speaker of Shaka Senghor's caliber and help share his message with children and adults in our community," said Irv Ashford, Comerica's senior vice president of external affairs and national director of financial literacy. "Like all the Empower Series events, this event is free and open to the community, and we encourage parents to bring their children to hear Shaka's powerful message about how our past deeds don't limit the value of our future contributions."
Dallas Deputy Mayor Pro Tem, Erik Wilson, is also planning to attend the event. "The Empower Series is an important program for our community and I'm happy it's being held in District 8," said Dallas Deputy Mayor Pro Tem, Erik Wilson. "The Empower Series improves our community by offering both life-enhancing and financial literacy programs, which helps bridge the economic gaps in our community."
Immediately following the Empower Series, from 12 p.m. – 2 p.m., students and adults of all ages will have the opportunity to win a voucher for two Dallas Stars tickets by completing a short educational online module in financial literacy or STEM skills. They can use the library devices or bring their own to participate in this quick and fun online program to be entered to win.
This online program, which is developed by EverFi, Inc., is part of the Dallas Mayor's Summer Reading program and is being provided to Dallas at no cost to the community through the sponsorship of Comerica and the NHL, NHL Players Association and Dallas Stars.
The Empower Series is free and open to the public. Registration is encouraged, but not required. For more information or to register, visit www.empowerseries.com