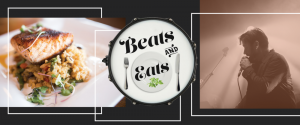 By Amber LaFrance (Publicist at CultureHype)
Dallas foodies and music lovers get ready!
Once a month, from September through November 2016, the Granada Theater's new series Beats and Eats will showcase the likes of extravagant food and great music in a blend of dinner and concert by some of Dallas' best chefs and musicians. The creative minds behind the historic music venue and event space have done it again, and this night is sure to create a mouthwatering event for food and music lovers that'll be the talk of the town.
Each night will include an exclusive four-course dinner prepared by a different local chef, alluring the palates of each visitor with succulent plates reflective of each chef's culinary style. Each dish will be matched with a different cocktail sure to compliment the flavors of each course, as well as the captivating performances by talents of included musicians. The first of its kind in Dallas, Beats and Eats will host guests Supper Club-style, but on a larger scale with the backdrop of live local music at Granada's historic theater.
"Beats and Eats combines two of my favorite things: music and food," said Kevin Thornburg, Granada's new director of business development. "The event allows us to not only feature amazing talent but also to show off an iconic structure like the Granada. The goal for us, always, is to create a memorable experience for all of our guests, so this just extends that."
Starting on Thursday, Sept. 15, Chef Graham Dodds of Wayward Sons and true blues artist Charley Crockett will blend their talents in a one-night collaboration to woo visitors. Dodds, a culinary sensation, is the mastermind behind Oak Cliff favorite, Bolsa, and the more recent farm-to-table powerhouse, Wayward Sons. His talents of creating delicious masterpieces with in season flavors have earned him the titles as Thrillist Dallas' "Best New Restaurant of the Year 2015" and Eater Dallas' "2015 Chef of the Year."
Bluesman Charley Crockett has shared the stage with artists like Justin Townes Earle, Citizen Cope, Joe Ely, among other famous artists. In the Night, debuted at an album release party at Granada Theater this June, is already receiving recognition from top tastemakers like the Fort Worth StarTelegram who called the album "an impressive calling card, full of Crockett's plaintive soulfulness and swinging tempos" and Central Track who noted the artist as having "the well-rounded songwriting capabilities of Van Morrison and a vocal approach that finds common ground between Bill Withers and early Dr. John." After being picked by NPR Music as one of the "Top 10 Songs Public Radio Can't Stop Playing," Charley's song "I Am Not Afraid" was selected by David Dye and featured on World Cafe this July.
The Granada Theater is located at 3524 Greenville Ave., Dallas, Texas 75204. And Tickets to Beats and Eats are $85 per person and include live music, food, and cocktails.
Doors open at 7 p.m., Sept 15, with the event beginning promptly at 8 p.m. For more information and tickets, visit http://www.beatsandeatstx.com/
Enjoy and support our local talent.