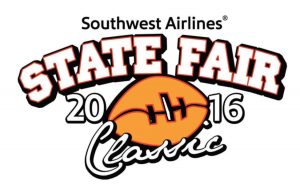 Ask about "the game of the year" in college football and an endless list of DI colleges roll off the tongue. Add in "and the halftime showdown," and the list narrows down to one: the Southwest Airlines State Fair Classic between Grambling and Prairie View A&M.
The stage is set for this year's event, with the Cotton Bowl slated to host the two teams at 4 p.m. on Oct. 1.
It's a storied rivalry on the football field between the two Historically Black Universities, but unlike any other game at the collegiate level, the rivalry carries on into halftime as both schools muster up first class, energetic and wild marching bands.
The event will actually cap off an entire week of celebrations for students and alumni, as well as fans, of both universities. All of which will kick off with a press conference on Monday, Sept. 26 at 11 a.m. in the City Hall Flag Room. More events sponsored by each school's alumni will lead up to game time. More info is available at http://www.alwe.com/event/state-fair-classic/