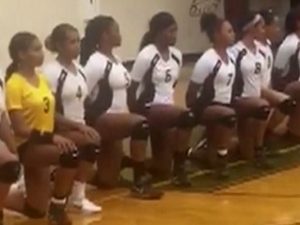 DESOTO, Texas –The DeSoto High School girl's volleyball team is getting a lot of attention. Videos and photos of the team kneeling during the national anthem at a recent game are circulating across social media.
The kneeling stance was a peaceful, non-violent act, according to administrators, where the teens communicated their frustrations and fears over national issues.
The team's act of protest is getting support and criticism.
Community member Robert Jefferson says he was proud to see young people speaking out.
Jefferson said, "We really need to focus on how they are treating people now."
The team's political stance played out as parts of the country were protesting controversial police involved shootings of two black men. The killing of Terrence Crutcher in Tulsa, and the shooting death of Keith Scott in Charlotte, North Carolina.
"We can't keep being silent," said one mom as she picked up her child from DeSoto High School. "We have to say something. They can't keep killing us."
Click here to read more about the Desoto High School girl's volleyball team kneeling during the playing of the national anthem before their game.