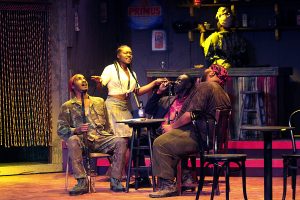 By David Wilfong, NDG Special Contributor
Throughout recorded history, men have found an excuse to go to war. Throughout the history of warfare, there have been those who have eeked out an existence by serving the needs of soldiers, oftentimes finding themselves providing services to both sides. And quite often, the services provided are of questionable moral value.
Hearkening back to the Humphrey Bogart character in "Casablanca," the story of "Ruined," written by Pulitzer awardee Lynn Nottage, centers around a watering hole stuck in the middle of a civil war in the Congo. Mama Nadi (Kenja Brown) entertains miners and soldiers alike, and in the end, men who find themselves on opposite sides of the conflict. But it is soon apparent the entertainment offerings go quite a bit further than drinks.
The play begins with Christian (Djore Nance), a traveling salesman, delivering new girls (Sophie, played by Dominique Edwards, and Salima, played by Jasmine Gammon) to Mama Nadi's "entertainment" spot. Sophie is complicated, as she is Christian's niece … and she is "ruined." Unable to service male clients, Sophie works primarily as wait staff and also as a singer.
From there, the story evolves around the women in the production. Each with their own past, and a story to tell as to how their paths led them to this point as society rumbled around them with the outbreak of the war. Josephine (Ashlee L'oreal Davis) had been the eldest daughter of a village chief. Salima had been a farmer's housewife, stolen from her garden by soldiers, and Sophie had been taken from her village and so badly abused she was considered worthless to men from then on. All of them work for Mama Nadi, a tough, street-wise woman who appears at first to be immune to emotional consequences of war.
To be clear, "Ruined" takes place in a brothel, and while the on-stage depiction of such an environment is appropriately limited, it is blatant enough that this might not be a play for the very young. Additionally, during the civil war in Congo, women were a primary target and rape was a weapon of mass intimidation. This play does not shy away from that reality. It is a tough story.
Special recognition would have to go to Kenja Brown for her portrayal of a very complicated and sometimes contradictory character in the person of Mama Nadi. Davis, Gammon and Edwards do an effective job of bringing to life the story of three diverse women who end up in the same predicament together.
The Bishop Arts Theatre Center has a very cozy, off-Broadway feel to it, and set designer Rodney Dobbs did an incredible job of creating adequate staging that rotates between scenes taking place in the bar, the bedroom and outside the front Door of Mama Nadi's.
Directed by Phyllis Cicero, "Ruined" will be showing at Bishop Arts Theatre Center until Oct. 30 with shows on Fridays, Saturdays and Sundays at 7:30 p.m.