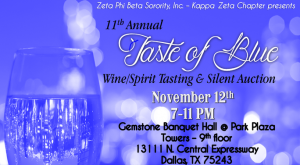 Zeta Phi Beta Sorority, Inc. Kappa Zeta Chapter, presents the 11th Annual "Taste of Blue" Wine & Spirits Tasting benefiting the Stork's Nest Charity Fund of Dallas, the non-profit federally tax-exempt affiliate of the Kappa Zeta chapter.  This year's Taste of Blue is also part of the chapter's 85th Anniversary weekend.  The event this year will be held November 12th at the Gemstone Banquet located at the Park Plaza Towers in Dallas, Texas. 
The Stork's Nest Program is a national project of Zeta Phi Beta Sorority, Inc. in cooperation with the March of Dimes Foundation designed to:
* Encourage low-income expectant mothers to seek early and continued prenatal care
* Supply these mothers and babies with needed maternity and layette items                                                  
 * Distribute March of Dimes educational materials on prenatal care
* Provide educational seminars through the Stork's Nest Educational Program (SNEP) which will ultimately result in more healthy babies through education and prenatal care.
This program has both service and educational components. The service is the establishment of a distribution site, the "Nest," where expectant mothers, referred by cooperating hospitals, clinics, and health centers, can get necessary items such as maternity clothes, layettes and furniture at minimal or no cost. The educational component consists of seven sessions covering prenatal care, nutrition, drugs, alcohol and smoking, genetics, infant care and parenting.
Tickets can be purchase by visiting the Kappa Zeta Chapter's event website.  Please note, for the safety of all of the guests, Zeta Phi Beta Inc., Kappa Zeta Chapter reserve the right to refuse service to anyone. Note: this event is for those 21 years or older.