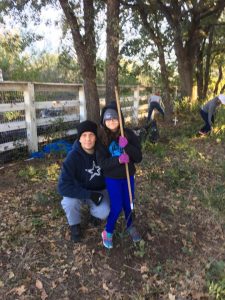 By Ruth Ferguson, NDG Editor
Last week the North Dallas Gazette's cover story "A call for action to honor the dead buried in Shelton's Bear Creek Cemetery" spotlighted the plight of a significant part of African American and Texas history on the verge of being forgotten. Despite the fact, a cemetery that predates the end of the Civil War and was awarded a historical marker by the Texas Historical Commission, Shelton's Bear Creek was an eyesore with no respect shown for the former slaves and freed blacks buried there. 
On Saturday, Nov. 19 many residents answered the call for help to cleanup Shelton's Bear Creek, showing up early on a crisp Saturday morning. One volunteer drove down from Lubbock to lend a helping hand. Together the volunteers, young and old alike, removed broken limbs, cleaned out creeping foliage and grass covering the gravesites and cleaned off the hidden tombstones and grave markers.
"We had over 50 volunteers on Saturday who cleaned a ton of debris from this sacred ground in a record time of 3.5 hours. It was awesome," a delighted Anthony Bond shared.
Reflections from a volunteer
Martha Stewart was one of the volunteers on Saturday morning. Afterward, she posted a moving video of the workers with music on her Facebook profile with this introduction:
"On Saturday, a group of volunteers, including myself joined together to help preserve this historical landmark. A cemetery where it is all slaves. Let me tell you something, death could not hold them down. Their positive energy meets you at the entrance and the feeling is so overwhelming it can bring you to tears.

People say that slaves were taken from Africa, this is untrue, PEOPLE were taken from Africa and made into slaves. May these wonderful human beings rest easy and know they are cared for. Every volunteer I came across was hand picked from God. I am excited to have been apart of this group!"
Civic partnership to finish the job
The City of Irving's Park and Rec. Dept. returned on Monday and finished the job by sending a crew and a mulching machine to dispose of the debris gathered in the cleanup of the cemetery. Bond was on hand to take photos and thanks, Terry, Carlos, and Pedro as they gathered all of the tree branches, shrub and other debris. Thanks to their efforts, these natural materials can be utilized to replenish the landscape for the cemetery and other locations throughout the city. 
"Thanks to Ray Cerda, the Director, Mike Griffith, the Asst. Director and to Scott their Supervisor," Bond shared. 
Bond enthusiastically thanked all who came out to support the cleanup, "This whole effort by so many has made me so THANKFUL. Happy Thanksgiving to you all." 
A few of the volunteers – photos courtesy of Anthony Bond: