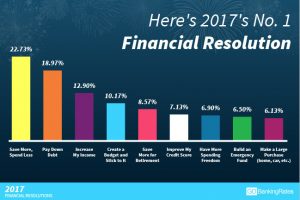 LOS ANGELES /PRNewswire/ — To find out what people will do to improve their finances come 2017, GOBankingRates.com asked 3,000 adults to name their top financial resolution for the upcoming year.
They were given nine options:
Create a budget and stick to it
Build an emergency fund
Improve my credit score
Save more, spend less
Increase my income
Pay down debt
Save more for retirement
Have more spending freedom
Make a large purchase (home, car, etc.)
The findings identified the most popular financial resolutions overall, as well as the most popular financial resolutions among income brackets, age and gender.
The most popular choice? "Save more, spend less."
"It's great to see that 'save more, spend less' is the most popular resolution, considering that a 2016 GOBankingRates' survey found that nearly 70 percent of Americans have less than $1,000 in savings," said GOBankingRates' Life and Money Columnist, Cameron Huddleston. "If people want to make this resolution stick, the first step they need to take is to automate savings by setting up monthly transfers from a checking account to savings account. Better yet, open a savings account for each one of your savings goals such as an emergency fund, vacation fund or down payment on a house and name the account based on the goal to motivate yourself."