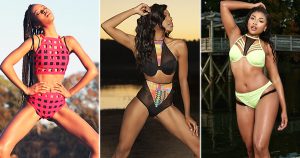 ATLANTA (BlackNews.com) — Shalaja Swimwear announced the arrival of their spring/summer 2017 collection with the launch of their #DivaInYou campaign. Created by African American fashion designer Shaquoya Jackson-Ishman, Shalaja Swimwear captures the inner goddess of a sophisticated clientele and provides a collection that drips of luxury, glamour and sexiness.
The #DivaInYou Campaign tells a story of the everyday woman transitioning from their everyday regular lives into the show stopping diva that lies within. ShaLaJa' Swimwear's two piece collection brings out the inner diva in a sophisticated clientele leaving them feeling like a supermodel. The transition begins at a relaxing beach get away where the surroundings evoke the diva within to be free and be in touch with their inner sexiness.
The new designer two piece collection includes high waist two pieces with cut outs, mesh and fishnet, sexy bandage swimwear that fit like a glove, and unique cut tops with detailed accents that give off a clothing wardrobe vibe. All pieces are different and unique, but make you feel the same. Each piece evokes a luxury high fashion lifestyle with every style from the sexy high cut bikini to the bold high waist two pieces leaving every woman feeling comfortable in their own way.
Collection highlights features the Caged Beauty, Azte c Maze and Drama Queen swimsuits.
Designer Quote: "The idea is to create a collection of the same genre with versatile styles that make you feel luxurious in your own unique way. This collection was created for the style savvy high fashion woman that loves to dress to impress."
Every swimsuit from the collection is handmade with the finest attention to quality and detail. Each piece is made with the best fabrics to enhance your figure and ensure long-lasting elasticity and color.
Shalaja Swimwear retails from $58 to $215 for both swimsuits and cover ups.

Pre-Orders:
The new 2017 Two Piece Collection is now available for pre-order on www.ShalajaSwimwear.com