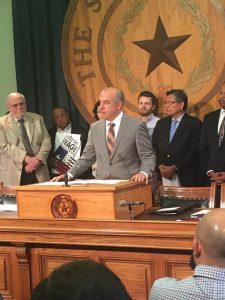 AUSTIN – Texas State Representative Chris Turner (HD 101-Grand Prairie) joined House and Senate colleagues and representatives from the Texas AFL-CIO to announce legislation aimed at increasing the minimum wage. This week, Turner filed HB 924 and the accompanying HJR 56, which would give Texas voters the right to decide whether or not to raise our state's minimum wage to $10.10 an hour.
"This is a good first step in the right direction to help Texas families make ends meet, but this is just a first step," said Turner. "Our current minimum wage of $7.25 an hour is nowhere near where it should be, and we need to do more to ensure Texans make a living wage so they can pay their bills and support their families."
HB 924 and HJR 56 would let voters decide if Texas should join 29 other states and the District of Columbia in raising the minimum wage above $7.25. According to research from the Texas Politics Project at the University of Texas, most Texans would support raising the wage. Sixty-two percent of Texans favor an increase, and only 27 percent oppose it.
"This legislation simply gives the voters a chance to have their voices heard. No legislator in the Capitol should be afraid to let the people decide if Texas families should be earning a living wage," said Turner.