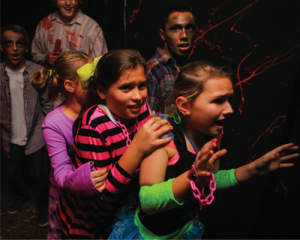 With autumn here and Halloween right around the corner, there are numerous opportunities for DFW residents to find all the spooky fun they desire this month.
Carrollton 
Downtown Carrollton will be the site of Poets in The Square Friday, Oct. 20 from 7 p.m. to 10 p.m. at 1106 S Broadway St., Carrollton. This free community event will feature live performances by top name spoken word artists and other musical guests in addition to face painting, henna tattoos, and other games for kids as well. More information can be found here.
The City of Carrollton will be hosting a Paranormal Porch Panel and Movie in the Park Saturday, Oct. 21 from 5 p.m. to 7:30 p.m. at 1509 N Perry Rd, Carrollton. The porch panel will disclose the findings of ghost hunters who have investigated the allegedly haunted Perry Homestead and will provide attendees the opportunity to question the panel on the ghost hunters' findings. Following the presentation, the 1959 classic House on Haunted Hill will be screened. The entire event is free. While it is not exclusively for adults, children are recommended to attend with parental supervision. More information can be found here.
Dallas
Dallas Children's Theater (DCT) will be hosting a Costumes and Curiosities Sale Saturday, Oct. 14 from 12:30 p.m. to 7:30 p.m. and Sunday, Oct. 15 from 12:30 p.m. to 6:30 p.m. at 5938 Skillman St., Dallas. The sale will feature contemporary clothing, handmade costumes, household goods, specially designed objects, tools, appliances, furniture, and much, much more. More information can be found here.
CK Management Services & Achieve PR will be presenting its Community Lifetime Achievement Award to honorees Betty Culbreath and Edna Pemberton Thursday, Oct. 19 from 6:30 p.m. to 8:30 p.m. at the Dallas Executive Airport at 5303 Challenger Dr., Dallas. Honorary hosts for the evening will be Dallas City Council members Casey Thomas and Tennell Atkins.
Be Better Women is hosting an Empowering Women to Pass Life's Tests event Friday, Nov. 3 through Saturday, Nov. 4 at St. Luke "Community" United Methodist Church at 5710 East R.L. Thornton Freeway, Dallas. The conference will provide holistic strategies for women to become better people by encouraging them to explore their true selves, discover healthy living, and empowering them to strive for better relationships with others. Friday's event will begin at 7 p.m. and will be a concert honoring St. Luke clergy women. Saturday's event will begin at 8 a.m. and will be a workshop. More information can be found here.
Farmers Branch
The City of Farmers Branch will be hosting Halloween in the Park at Farmers Branch Historical Park Saturday, Oct. 28 from 5 p.m. to 10 p.m. at 2540 Farmers Branch Lane, Farmers Branch. The event is family friendly, and admission to the park is free. A Haunted Hedge spook-filled experience will also be available to children aged 9 and older for $5. For more information, call 972-919-1433.
Garland
The Kiwanis Club of Garland will be hosting the Monster Dash 5K Saturday, Oct. 28 from 8 a.m. to 12 p.m. at 521 W. State Street, Garland. Proceeds from the event will benefit the Garland Opportunity and Development Center, Counseling Institute of Texas, Recycled Pomeranians and Schipperkes Rescue and Choose Fitness. More information can be found here.
McKinney
Collin College's Dignity Initiative is hosting a Batterer's Intervention Panel Oct. 24 and Oct. 26 at multiple campuses in the Collin College family. The Central Park Campus will be holding one on Tuesday, Oct. 24 from 11:30 a.m. to 12:45 p.m. in the conference center at 2200 W. University Drive, McKinney.
Plano
The final Batterer's Intervention Panel discussion will take place on Thursday, Oct. 26 at the Spring Creek Campus in its conference center from 11:30 a.m. to 12:45 p.m. at 2800 E. Spring Creek Parkway, Plano. All panel discussions will focus on the role the batterer plays in domestic violence and the batterer's responsibility to learn skills to control anger and violence. More information can be found here.
Richardson
Together Richardson is hosting a Wine Down event Thursday, Oct. 19 from 5:30 p.m. to 7:30 p.m. at 581 W. Campbell Suite 101, Richardson. The monthly event is organized to help Richardson residents to get to know one another and to find out what Together Richardson is doing next. The event is intended for those aged 21 and older with attendees expected to bring their valid IDs. The event is free. For more information, contact the organizer at info@togetherrichardson.org.
To submit events and announcements, send an email to editor@northdallasgazette.com with headline Community Briefs.