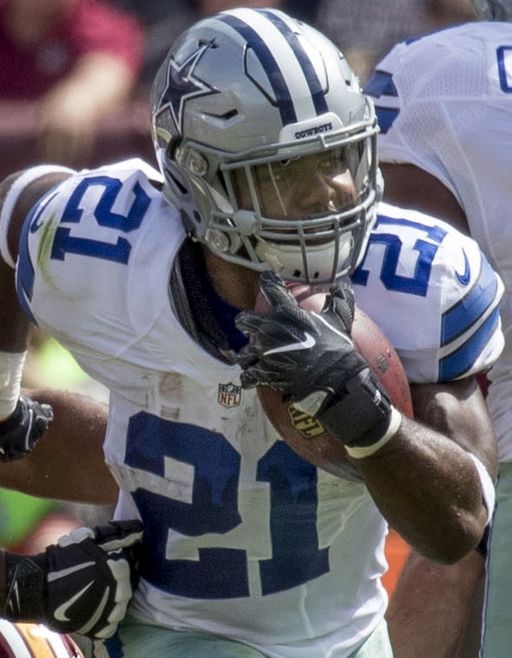 Editor's Note: Elliott has another appeal pending, with a decision expected Wednesday evening. 
By Dwain Price
FRISCO –In their ever-growing quest for justice, appeal after appeal after appeal after appeal has led the Dallas Cowboys to finally come to the conclusion that they must start preparing prepare for life without running back Ezekiel Elliott.
At least for the next six games.
Earlier this week in U.S. District Court for the Southern District of New York, Judge Katherine Polk Failla denied a request by Elliott's lawyers for a preliminary injunction that would allow the second-year player to continue playing this season. Her decision in effect reinstated the six-game suspended given to Elliott by the NFL due to allegations of domestic violence.
Thus, Elliott must sit out the next six games, starting with Sunday's contest at AT&T Stadium in Arlington against the Kansas City Chiefs. The two-year pro also will miss a road game against the Atlanta Falcons, home contests against the Philadelphia Eagles, Los Angeles Chargers and Washington Redskins, and a road game against the New York Giants before returning to play a road game at Oakland on Dec. 17.
In Elliott's absence, the Cowboys will use a running back by committee trio composed of Alfred Morris, Darren McFadden and Rod Smith. But Cowboys fans shouldn't fret about losing Elliott – at least according to Smith.
"We've got some good backs in our room," Smith said. "We're still confident, our team is confident. We're going to go out there and we'll do what we do.
"Zeke is the head honcho in our room right now, but like I said, it ain't going to be no slowing down. We're going to keep rolling."
Well, that's certainly easier said than done. After all, Elliott is the reigning NFL rushing champion and currently is third in the league in rushing with 690 yards on 164 carries.
Following a slow start the first five games this season, Elliott has averaged 29.5 carries and 148.5 yards while scoring four touchdowns in the past two contests. It's difficult for anyone to duplicate those numbers, but that's the task the Cowboys (4-3) are faced with as they try to remain within shouting distance of the Eagles (7-1)in the NFC East.
Right guard Zack Martin tried his best to convince his listeners that absolutely nothing changes in the running game now that Elliott is on the outside looking in.
"The system is the system," Martin said. "We're going to be running the same plays, we're going to be running the ball.
"We just got to be able to execute up front because we know these (backup running backs) can make a ton of plays."
Cowboys owner Jerry Jones, of course, is perturbed that NFL commissioner Roger Goodell laid down the hammer on Elliott. By Jones' account, Goodell flubbed some alleged domestic violence cases in recent years, including the 2014 case of former Baltimore Ravens running back Ray Rice – and Elliott is paying the price for those missteps.
"This swing of judgment (by Goodell) has been unbelievable from the Ray Rice thing (from) one or two games all the way up to a six-game suspension when you've truly got a debate," Jones said on 105.3 The Fan. "Even this judge said it shows that very reasonable people could possibly come down on both sides of this.
"Well, under our legal system it has to be stronger than that for someone to have done it. Now, we all know we were not there to see it, but I do have every point of contention on both sides and in our system in this country, Zeke would not have any issue here as to his workplace. I'm sure (Goodell would) like to take back his initially Ray Rice stance and a few others, and he's in the process of having trying to correct that, and in doing so Zeke is a victim of an over-correction."
Regardless of how Elliott got to this point, the only time Cowboys fans will see their favorite running back play a home game again this season is when Dallas hosts Seattle on Dec. 24. Unless, of course, the Cowboys manage to sneak into the playoffs.
Elliott's absence puts more pressure on quarterback Dak Prescott to run the offense in precision-like fashion. It also puts more pressure on the defense to continue with a trend that has seen them force six turnovers during the past two games.
"We're just going to support Zeke in everything that he's going through, but we still have to do our job regardless of if he's on the field or not," cornerback Jourdan Lewis said. "I play defense, so I don't know how much (Elliott's absence is) going to affect me and my job.
"But I know what I have to do. We have to stop offenses and we have to execute, so that's pretty much it."
As far as that running back by committee goes, they will be severely tested. But at least two of them have already enjoyed some success on the NFL level.
Morris rushed for 1,613 yards in 2012, 1,275 yards in '13 and 1,074 yards in '14 – all with the Redskins. The six-year veteran has rushed for mere 105 yards on 13 carries this year as Elliott's primary backup.
McFadden has a pair of 1,000-yard rushing seasons on his resume, including one with the Cowboys. The 10-year veteran rushed for 1,157 yards with Oakland in '10 and 1,089 yards with the Cowboys in '15 but hasn't been activated for any of the Cowboys' seven games this season.
Smith, meanwhile, has just 12 rushes for 74 yards in his brief three-year career, including 10 carries for 69 yards this season. Still, he maintains that, sans Elliott for the next six games, the Cowboys aren't concerned about missing the playoffs.
"Everybody in the running back room, they're ballers," Smith said. "They know how to run the rock, so we're not worried about it. We're going to be alright.
"If one man go down, the next man up. That's how you've got to look at it. But I hate to see (Elliott) going through this."