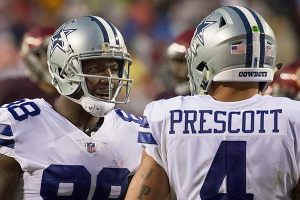 By Dwain Price
FRISCO — Another season of high expectations for the Dallas Cowboys fell way short of its goal.
Trying to ride the wave of last season's 13-3 record, the Cowboys desperately needed a 6-0 win over the Philadelphia Eagles in this past Sunday's regular season finale just to finish the season with a ho-hum 9-7 record. That record is well below the Cowboys' high standards, but is enough to help head coach Jason Garrett keep his job.
In seven full seasons with the Cowboys, Garrett has made just two playoff appearances and won only one playoff game. But owner Jerry Jones said Garrett will be back to coach the Cowboys for an eighth season.
"Jason is in a good spot," Jones said on his weekly radio show on 105.3 The Fan. "We're in a good spot with Jason."
Garrett definitely appreciates the loyalty Jones has shown him.
"It means a great deal," Garrett said. "He's been an outstanding owner and certainly a huge figure in this league for a long time.
"He loves football, he loves the NFL, and he certainly loves the Cowboys."
Jones obviously loves Jason Garrett, too. And, apparently, he also has an affinity for offensive coordinator Scott Linehan and defensive coordinator Rod Marinelli, since he said he wants those two coaches back with the Cowboys next season, too.
Whatever changes to Garrett's staff will be minor ones.
"I think there are a lot of good building blocks in place on our football team," Garrett said. "There will be some changes to our coaching staff, there will be some changes on our roster. We'll be very determined to make sure those changes are for the better, but there are a lot of positive things that we can build on as we go forward.
"Some good young players have been added to our team in the last couple of years. They've helped us win some games over the last couple of years and we'll keep trying to help those guys develop individually and help our team develop and grow and continue to take the next steps."
There was speculation as to whether this would be tight end Jason Witten's last NFL season. But the 15-year veteran – he turns 36 in May – who has spent his entire career with the Cowboys squashed all rumors and plans to return next season.
"I'm as motivated now as I've ever been to play this position at a higher level and help my team in all situations as a leader (and) as a veteran, but most importantly as a tight end and what that role consists of in this offense," Witten said. "And with that we've got to get back to work and we've got to evaluate it and strip it down to the most simple form, and we all have to do that – players and coaches alike and the organization – and we will.
"I see a lot of good in this locker room. If I didn't, I wouldn't make a decision like that, because I know how hard and what all is put in to going into a season."
Defensive end DeMarcus Lawrence, who just finished the last year of his contract, also would like to continue playing for the Cowboys.
"I know the organization feels the same way about me, so I ain't worrying about that," Lawrence said. "I'm going to let everything fall into place and we'll see where it goes from there."
Lawrence finished this season tied for second in the NFL in sacks this season with 14 ½. That translate into a very healthy payday for him.
"I ain't no numbers guy," Lawrence said. "I mean, I can count real well and I know how much a sack costs."
The loss of running back Ezekiel Elliott – the NFL suspended him six games for violating the league's domestic violence policy – contributed mightily to the Cowboys' failure to reach their goal this season. So, did the loss of linebacker Sean Lee and offensive left tackle Tyron Smith at various times.
The Cowboys went 3-3 in Elliott's absence, but where only 6-4 in games he played in. Elliott wanted no part of thinking how the Cowboys would have fared had he been available for the entire 16 games.
"What's the point of going 'what if?,' " Elliott asked. "It already has been.
"So you just got to look forward and control what you can control and make sure we come back ready next year. I wish we were playing in the playoffs right now, but I'm happy to have everything behind me, I'm happy to move forward and I'm going to use it as fuel for next year."
Quarterback Dak Prescott also plans to use the subpar season he had this year as fuel for next season. Following a stellar year as a rookie in 2016, Prescott threw nine more interceptions and one less touchdown pass this year than he did last year.
"There were ups and downs," Prescott said. "I think I played some of the best ball of my career this year and obviously I played some of my worst ball of my career this year.
"I'm going to call it a growing year. I'm going to learn from everything that's happened this year and move forward to become a better player and a better person."
Prescott, who passed for less than 185 yards in six of the last eight games, also hopes to have a better on-field connection with wide receiver Dez Bryant, who, according to his declining stats, can no longer be considered an elite receiver.
"We've got to look at ourselves first and we're going to do that, I'm pretty sure, because everybody in here, including all the coaches, we're competitors," Bryant said. "I'm pretty sure all of us are looking forward to 2018.
"And we're all looking to see what we all can do better, and I think we're going to do that just because we are a damn good football team."