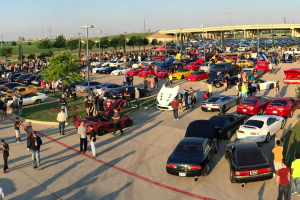 The New Year is here, and DFW buzzing this week and next with events as diverse as campaign kick-offs and pet adoption events.
Carrollton
Posh Child Magazine is hosting the Society Fashion Show and Convention Friday, Jan. 5 at 3 p.m. through Sunday, Jan. 7 at 7 p.m. at 1201 Raiford Road, Carrollton. This event will be a comprehensive modeling convention of dancing, modeling, singing, runway classes, and also industry-leading production from New York Fashion Week producers. It is organized to foster a positive learning environment and to create life-changing opportunities for all participants. In 2017, similar events yielded over 150 call backs from talent agencies for participants and over 42 models signed. For tickets and more information visit, here.
Dallas
Gubernatorial Candidate Lupe Valdez is hosting her Campaign Kick-Off event Sunday, Jan. 7 from 3 p.m. to 5 p.m. at Tyler Station located 1300 South Polk Street, Dallas. After resigning her position as Dallas County Sheriff in late 2017, Valdez has decided to challenge Governor Greg Abbott in the 2018 gubernatorial election. This event is free and open to the public. Since the event is located in close proximity to a DART stop, public transportation is encouraged as a means of getting to the event. Food and drinks will also be available for purchase. Although admission is free, attendees are encouraged to RSVP for the event or donate here.
Garland
The Good Shepherd Rescue and Sanctuary of Texas is hosting a Pet Adoption Event Saturday, Jan. 6 from 1 p.m. to 3:30 p.m. at Pet Supplies Plus located at 1031 Northwest Highway, Garland. Volunteers at this event will be able to discuss all things German Shepherd. For those interested in possibly adopting a dog, you are required to bring any other dogs you may have at your place of residence to meet any dog you intend to adopt. If you are not already an approved adopter, but are interested in adoption, please submit a completed application here.
Irving
The Irving Police Department is hosting a Worship Center / Church Safety Seminar Saturday, Jan. 13 from 9 a.m. to 1 p.m. at the Irving Arts Center located at 3333 N. McArthur Boulevard, Irving. You must be affiliated with a worship center as a leader, pastor, teacher, volunteer, or a similar position to attend this. Admission to this event is free. Check-in begins at 8 a.m. The speaker will be Sgt. Joseph Palomar of the Irving Police Department. Topics to be discussed will include worship center safety practices, responding to an active shooter / attacker situation, safety response protocol, and more. For more information, contact Sgt. Palomar at 972-721-2545 or via email at jpalomar@cityofirving.org.
McKinney
The McKinney Democrats are hosting their first McKinney Area Democrats General Meeting of the year Saturday, Jan. 6 at 10 a.m. at 2101 Whitney Lane, McKinney. Members and non-members alike are invited to join the club's monthly discussion of local politics, candidates for the 2018 midterm elections, civic engagement, and Get-Out-The-Vote efforts in McKinney and the surrounding North Texas area. Admission to this event is free. For more information on this event, visit here.
Plano
Cars and Coffee Car Meet is hosting its first Cars and Coffee Meet-Up of 2018 Saturday, Jan. 6 from 7 a.m. to 10 a.m. at Cars and Coffee Car Meet located at 6800 Dallas Parkway, Plano. This is the largest monthly gathering of iconic show cars in North Texas. A food truck will be on-site at the event for breakfast items. Free cups of coffee and colorful Cars and Coffee t-shirts will be available for purchase at the event as well. With any purchase or donation made, all process will go to support the 22Kill Foundation – a charity that raises awareness of the veteran suicide epidemic sweeping the U.S. by helping educate the public on PTSD and other mental health issues. For more information on this Cars and Coffee, visit here.
Richardson
The Richardson Democrats are hosting a meet-and-greet opportunity with Democratic Congressional candidate Brett Shipp Saturday, Jan. 6 from 9:30 a.m. to 11 a.m. at 581 West Campbell Road, Richardson. Shipp is a former investigate reporter, who worked for WFAA News 8 for more than 20 years. He has now decided to leave his profession behind him in an attempt to win the Democratic nomination for Texas's 32nd Congressional District and to eventually face off against incumbent Republican Congressman Pete Sessions this November. Admission to this event is free and does not require registration. For more information on Shipp and his campaign, visit here.