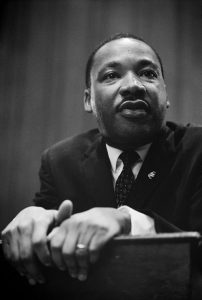 By Sister Tarpley, NDG Religion Editor
Editor's Note: For the month of January, Sis. Tarpley is spotlighting the wisdom and contributions of Dr. Martin Luther King. This is part one in a four-part series. 
It has been said, "That it is not when a man was born or when he died, that makes the difference in his life and his legacy; it is the dash or space between his birth and his death."
A son, brother, husband, father, uncle, a humanitarian, civil rights leader, author, teacher, preacher and a pastor – Dr. Martin Luther King, Jr. was all of these and more. Plainly put, Dr. King proudly changed the consciousness and character of America. With his urgent messages of non-violence and justice for all Americans, Dr. King reached more people than any other Black leader in history, during his life time.
Dr. King was a Baptist minister and social activist, who led the Civil Rights Movement in the United States from the mid-1950s until his death by assassination in 1968. Among many efforts, Dr. King headed the Southern Christian Leadership Conference (SCLC.) Through his activism, he played a pivotal role in ending the legal segregation of Black citizens in the South and other areas of the nation.
Dr. King as well, was the creator of the Civil Rights Act of 1964 and the Voting Rights Act of 1965. He became the youngest recipient of the world famous and coveted Nobel Peace Prize in 1964, among several other major honors. Dr. King was assassinated in April 1968, and continues to be remembered as one of the most lauded Black leaders in world history; often referenced by his 1963 famous speech, "I Have a Dream."
Without a doubt, "I Have a Dream" was Dr. King's most famous and beloved speech; it was delivered to more than 200,000 people at the "March on Washington" at the Lincoln Memorial. In the summer of 1963, the nation was seething with racial tension and frequent riots were tearing apart communities. In the midst of this crisis, Dr. King conveyed his vision in a very powerful language that the world has not forgotten and probably never will forget. Mrs. Coretta Scott King, Dr. King's wife, recalled, "At that moment it seemed as if the Kingdom of God appeared; but it only lasted for a moment."
Dr. Martin Luther King, Jr. was assassinated on the balcony of the Lorraine Motel in Memphis, Tennessee. He was only 39 years old.
Some Timely Quotes of Dr. King: 
 "A nation or civilization that continues to produce soft-minded men purchases its own spiritual death on an installment plan."
"Darkness cannot drive out darkness; only light can do that.  Hate cannot drive out hate; only love can do that."
"We will have to repent in this generation not merely for the hateful words and actions of the bad people but for the appalling silence of the good people."
"Faith is taking the first step, even when you don't see the whole staircase."
 "Let us rise up tonight with a greater readiness."
"Hatred paralyzes life; love releases it. Hatred confuses life; love harmonizes it. Hatred darkens life; love illuminates it."
"If a man is called to be a street sweeper, he should sweep streets even as  Michelangelo painted, or Beethoven composed music, or Shakespeare wrote poetry. He should sweep streets so well that all the hosts of heaven and earth will pause to say, here lived a great street sweeper who did his job well."
"Let us stand with a greater determination.  And let us move on in these powerful days, these days of challenge, to make America what it ought to be.  We have an opportunity to make America a better nation."
Something to Ponder:  
Four Things You Can't Take Back:
1) A rock, after it's thrown.
2) A word, after it's said.
3) An occasion, after the loss.
4) A time, after it's gone.