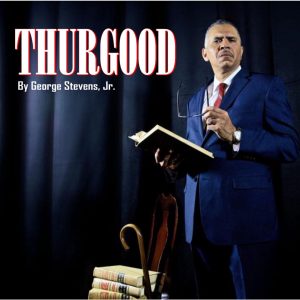 By D. Prescott, NDG Guest Contributor
Thurgood, on stage at Bishop Arts Theatre, is a one-man production spotlighting the career and thoughts of a Black history legend. George Stevens, Jr. wrote the play with Selmore Haines III bringing to life the words of the vaulted lawyer. His delivery captivated the audience from the moment Haines stepped on stage and brings the legend to life.
While many are aware of the career of Marshall, who through his leading the case of Brown v. The Board of Education helped to change the American landscape forever with the desegregation of public schools. He went on to serve as the first African American U.S. Solicitor General and later Supreme Court Justice in the United States. Unfortunately, these two facts are the extent that most of us know about Marshall. Through the efforts of Stevens and Haines, audiences leave feeling like they finally know a little more about the man himself.
One of the scenes particularly moving was Thurgood's reflections on how felt about being called the N-word, sharing why he was so upset by the word. We also discover that while he respected Rev. Dr. Martin Luther King, Jr., he did not always share the same viewpoint.
The legend becomes more of a real man the audience can relate to as the story of the tragic loss of his first wife and child unfolds. But Marshall was able to find love again, and together they had two sons who would be what he remained very proud of throughout his life.
Thurgood is on stage at Bishop Arts Theatre through Feb. 28; tickets are $18 in advance and $22 at the door. For performance times and tickets, visit bishopartstheatre.org.