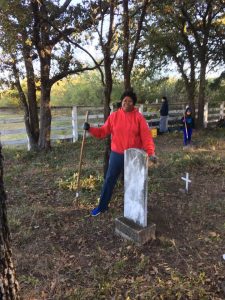 Update: The event start time has changed to 9 a.m. 
By Jazlyn Mercer, NDG Staff Writer
The condition of the historic Shelton's Bear Creek Cemetery has been a concern for concerned Irving residents. Through the on-going efforts of those who care about this landmark to get the cemetery cleaned up and to raise awareness of its significance, the local FedEx in Irving has decided to adopt the cemetery. FedEx has pledged to help maintain and preserve the cemetery, according to a Facebook post by local activist Anthony Bond.
"I have been praying for God to help me find a permanent way to preserve and maintain this place since we had the Texas Historical Marker Dedication on February 17, 2000," Bond said. "Eighteen years later, look what God is doing through Zelda, FedEx, Lowe's, Home Depot and countless untold others."
The Texas Historical Commission, the state agency responsible for identifying landmarks for historic preservation, granted a plaque showcasing the history of Shelton's Bear Creek Cemetery. One of the factors included that through Bond's research the cemetery predates the end of the Civil War. Shelton's Bear Creek Cemetery is the final resting place for almost 200 slaves and their descendants.
In recent days the cemetery has been forgotten, according to Irving resident Gail Fields. FedEx's contribution will allow for the graveyard to be cleaned up while helping to raise awareness. FedEx has pledged to come out quarterly and assist in maintaining the cemetery grounds, FedEx's Irving administrator Zelda Celestine shared in a recent NBC 5 Dallas-Fort Worth broadcast.
Bond attended the March 1 Irving City Council meeting to praise Mayor Rick Stopfer, FedEx, and other contributors. He also extended an invitation to the city council and community members to a celebration of the FedEx adoption on March 10. The ceremony originally planned for Saturday, Feb. 17, however, was rescheduled due to the recent prolonged rainy weather.
The event will take place at the cemetery located at 1525 Hard Rock Road in Irving from Noon until 3 p.m. Members of the Irving City Council are tentatively scheduled to attend and according to Bond more than 100 individuals have registered to attend.
"I wish everybody would come," Bond said. "This is a very sacred place."