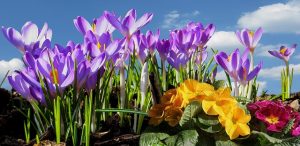 After a rather rainy February, everyone in DFW is looking forward to Spring Break. Here are a few ideas for your spring break and beyond across the Dallas/Fort Worth area.
Allen
March 16, from 3-4 p.m. the Allen Public Library will host a Saint Patrick's Day Celebration. Celebrate the luck of the Irish in this St. Patrick's Day themed celebration featuring crafts, games, and a scavenger hunt. Don't forget to wear something green. The cost is free.
For more info, please visit https://cityofallen.org/1162/Childrens-Programs.
Carrollton
Saturday, March 10, Nola Cajun and Maverick Harley Davidson host Caffeine and Gasoline Crawfish Party. The event will include some free alcoholic beverages and live music by The Mescaline Americans, a car and bike show, games, vendors and tons of crawfish.
For more info, please visit here.
Saturday, March 24, Richardson will host Texas country musician Justin Philip Brooks for the Concert on the Square Spring Series. A variety of food trucks will be present.
For more info, please visit http://www.cityofcarrollton.com/Home/Components/Calendar/Event/29997/20.  
Dallas
March 12-March 16 there will be free activities during Spring Break at Fair Park. Free activities include Disk Bonk, Hop Fit Fitness Hopscotch, Topple Tubes, Agility Ladders, Corn Hole, and Fair Park Fun Facts Scavenger Hunt. Free Art in the Park and free Yoga for all ages. Also, teens can pre-register (ages 12-15) for Teen Leadership Camp, providing the opportunity to help teens develop as effective and engaged citizens, now.
For more info, please visit https://www.dallasparks.org/Calendar.aspx?EID=1190&month=3&year=2018&day=5&calType=0.
Garland
Thursday, March 29, Mayor Douglas Athas will present his annual State of the City Address at 6:30 p.m. at the Plaza Theatre in Downtown Garland, 521 W. State St.
This event is free and open to the public. The presentation will be recorded for broadcast on the City's government access cable channel, CGTV, and will be available online at GarlandTX.gov, click on the CGTV videos button.
For more info, please visit https://www.garlandtx.gov/news/displaynews.asp?NewsID=1574&TargetID=23 or call 972-205-2400.
Irving
Monday, March 12 from 2:30 a.m. to 3:30 a.m. the East Branch Library Program room will host a variety of birds, mammals and reptiles from the Dallas Zoo.
For more info, please visit https://cityofirving.org/Calendar.aspx?EID=8014&month=3&year=2018&day=12&calType=0.
Saturday, March 17
Irving Animal Services is offering all
adoptable animals for a discounted adoption fee of only $20
. Normally, the adoption fees range from $70 to $100. Adopters must be at least 18 years of age and have a valid form of identification.
Animals being adopted will be up-to-date on vaccinations, including rabies if the animal is more than four months of age, spayed or neutered, given a general dewormer, and treated for fleas and ticks. The animals will also be microchipped and registered with
24PetWatch
, heartworm tested, and given 30 days of 24PetWatch pet insurance with a valid email address.
Lewisville
Saturday, March 10, a one-time Texas Troubadour featured artist, Josh Grider, comes to the Texas Tunes stage in support of his latest album Good People at Medical City Lewisville Grand Theater, 100 N. Charles Street, as the third performer in the Texas Tunes Concert Series.
New in 2018 reserve seating is now available for Texas Tunes concerts. Tickets can be purchased online at MCLGrand.tix.com.
For more info please visit, MCLGrand.com or call 972.219.8446.
Sunday, March 11, Emily Scott Robinson will perform in the Black Box Songwriter's Concert Series at Medical City Lewisville Grand Theater, 100 N. Charles Street.
North Carolina native Emily Scott Robinson is pioneering her own brand of roots music: Southern Gothic folk. Robinson released her debut album in 2016 (Magnolia Queen) and an EP (Live in Birmingham) in 2017. She is set to release a new album in the Fall. The Black Box Songwriter Concert Series features performing singer/songwriters in an intimate, listening room setting. This series, now in its third season, draws great reviews and has attracted many artists. This series is produced by the City of Lewisville.
Tickets are $15 general admission, tax included. Tickets can be purchased at MCLGrand.tix.com.
For more info, please visit MCLGrand.com or call 972.219.8446.
Richardson
March 24, In an effort to help North Texas' two-legged residents find new four-legged friends, the North Texas Honda Dealers and the Helpful Honda people in blue will be hosting Helpful Honda Pet Adoption events with local shelters and rescue groups. In addition to finding forever homes for adoptable pets in need, they're doing something else 'pawsome'– they'll be providing complimentary leashes, food bowls, and doggy bags to those who visit and adopt at the events, and donating back to each participating shelter or rescue group.
For more info, please visit http://www.cor.net/Home/Components/Calendar/Event/12941/64.