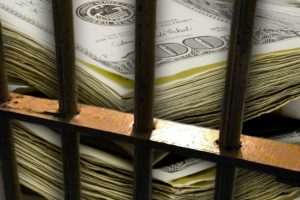 By David Wilfong, NDG Contributing Writer
Among minorities and economically disadvantaged, the subject of bail reform is one of the hottest topics around. During recent political forums in the Democratic judicial races, the concerns were a constant campaign issue for candidates. Not patient enough for a political process to play through, some local activists have started a "Community Bail Fund" to fill in the gaps and provide relief for low-income defendants who are already facing charges.
Almost two years ago, an organization called Civil Rights Corps (CRC) filed a landmark lawsuit against Harris County challenging the money bail system, calling it "unconstitutional." In January, the same group filed a similar case against Dallas County. Elizabeth Rossi, an attorney who took part in the filing against Harris County and is also working on the local case, spoke to the North Dallas Gazette by telephone.
"Texas has a problem throughout the entire state," Rossi said. "Counties rely on an arrestee's access to money to make decisions about who is released and who is detained following an arrest. And Dallas is one of the most significant perpetrators in the sense that it detains thousands of people every day."
The fight over bail reform can become very expensive. Legal expenses to Harris County from all firms have already cost Harris County more than $7 million in legal fees. Rossi reported Dallas County recently hired one of the same law firms representing Harris County.
"Those are legal fees up until about six months ago," Rossi said. "Harris County has been refusing to respond to local activists' public information act requests for more information … for copies of those bills."
Through communication and coordination with local community groups and activists, CRC decided to add Dallas County to their legal agenda on Jan. 21. The organization now has 11 open challenges to the money bail system, having filed the first case in 2014. They have closed 10 cases in various locations such as Alabama, Mississippi, Louisiana and Missouri.
In these cases, the people benefiting from the legal actions were charged with traffic or misdemeanor violations. In the Dallas County actions, they are seeking relief for those facing misdemeanor and felony charges as well.
"It's important to remember that the constitutional principles are the same, regardless of whether somebody's arrested and charged with a misdemeanor or a felony," Rossi said. "Even though, if you provide the procedural protection, and base the substantive findings required for detaining someone before trial; it may be more likely that if a person is charged with a more serious offense that they end up detained on a properly-issued detention order in a serious felony case. It doesn't change the procedures that are required, or what the constitution requires the judge to determine, as a matter of fact, about why that person's detention is justified."
She said Dallas County is making many of the same arguments as it's neighbor to the south, including the assertion poor people "want to be in the Dallas County jail" because they know they will be fed and sheltered, or that releasing impoverished detainees is "setting them up to fail." She says such assertions illustrate there is a long way to go in changing the culture.
Bail reform might be a frequent talking point in recent campaigns, but according to Rossi, there are not a lot of roadblocks to making changes at the local level. The current bail system in Dallas is a policy decision on the part of judges and the Commissioners Court.
"All they would have to do to fix the system is for the judges to vote – as they do as an administrative body – and promulgate a new bail schedule consisting of unsecured amounts, or to promulgate a new schedule with standard non-financial conditions," Rossi said. "And then they could start requiring the magistrates – whom they control, and who conduct the jailhouse arraignments – to conduct constitutionally adequate hearings to comply with due process to ensure that if a person is kept in a jail cell before trial that it is only because it is necessary to do so in order to reasonably assure court appearance or protect the community."
Rossi asserts that since 1999, Dallas County has only authorized pre-trial services to screen a very small segment of detainees for release on a non-financial basis. The majority she says – including homeless, people who don't have family or friends to verify specific information, those from other counties, and most others – will be required to remain in jail until a district attorney decides on their case. The process can take from five to 10 business days, one she also hopes to expedite. Also in contention is that currently, Dallas County holds bail proceedings behind closed doors.
The county has filed a motion to dismiss, and CRC has filed an "emergency relief" motion to stop Dallas County from implementing the money bail system while litigation is taking place. The CRC briefs are due in a week-and-a-half, with the county filing additional briefs two weeks after that. Rossi expects a hearing or oral arguments in late May or June but says she cannot be sure. The matter in Harris County has been ongoing for almost two years, so she says it's impossible to tell how long the process will take.
"I'm hopeful that Dallas County will take a different route, make a different strategic decision about the utility to the residents of Dallas County, or the justice of fighting this," Rossi said.
The move for bail reform is picking up steam in Texas. The CRC was joined in the lawsuit by the Texas Fair Defense Project, the ACLU of Texas, the ACLU, Faith in Texas and the Texas Organizing Project Education Fund. On April 8 the ACLU of Texas announced a similar lawsuit against Galveston County.
(Editor's note: This story was edited on 4/19/18 to clarify details on differences between the Harris County and Dallas County cases, the CRC's status as the lead plaintiff in the lawsuit against Dallas County, and an update to one response was allowed.)