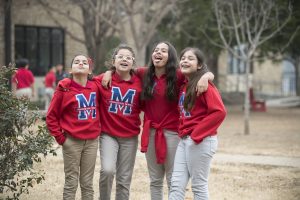 The AT&T Byron Nelson is more than just a top-flight professional golf tournament, it is also an economic driver for a program with a storied history of helping Dallas' youngest and most vulnerable citizens through the Salesmanship Club of Dallas.
"One of the things I appreciate about the Salesmanship Club, in particularly Momentous Institute is how early they begin to invest in these kids to help them understand no matter what their circumstances are, you can be anything you want to be," said former Dallas Mayor and U.S. Trade Rep. Ron Kirk. "Helping our kids and particularly underserved kids get a start I think is some of the most important work that any group can do. I think the Salesmanship Club, to their credit, has redefined in terms of golf at least and golf sponsorship what charitable giving means. As they move back to Dallas and we welcome them back to Trinity Forest, I hope the tournament becomes even bigger because the more successful the tournament is financially, the more the Salesmanship Club can do to help our young people."
The Salesmanship Club has been operating for more than 95 years and its members have been committed to transforming kids' lives. The Club unites more than 600 members by core values of fellowship, commitment, respectfulness and humility. Each year, day in and day out, Club members focus their dedicated efforts to support Momentous Institute, which builds and repairs social-emotional health for kids and families through education, therapeutic programs, research and training.
"Life is traumatic, and trauma that our students and children experience is incredible," said Michael Sorrell, president of Paul Quinn College. "I think sometimes as you get older, really unless you are coming into contact with students on a regular basis you can lose sight of that.  When I think about everything that our students go through, I don't think there can be enough Momentous Institute."
So while the world's best golfers send their drives soaring during the competition beginning on May 16, remember they are also sending the hopes, dreams and expectations of area youngsters soaring as well.