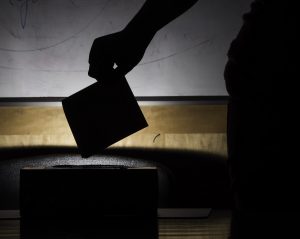 By David Wilfong, NDG Contributing Writer
Dallas County Democrats are headed to the polls once again to determine who will face Republican candidates in the general election. There are 10 races where no clear majority was taken in the primary. Nine of them will be contested on 
May 22
.
In the race for Texas Governor, former Dallas County Sheriff Lupe Valdez faces Houston area investor Andrew White after the two rose to the top of a field of nine candidates.
Valdez brought in almost 43 percent of the vote (carrying Dallas County by more than 63 percent). She wants to move toward universal healthcare, equality of opportunity in the job market, address school finance issues and clean water.
White calls himself a "common sense Democrat." He has a "Made in Texas" plan to create 1 million new jobs in the state over the next five years. He has also won the endorsement of three of the state's largest metro newspapers.
In the race for the U.S. House of Representatives in Texas District 3, Democrat Lorie Burch is in a runoff with Sam Johnson (who bears the same name as the Republican retiring from the seat).
Burch pledges that "visibility and accountability" will be the hallmarks of her time in office. She laments the partisanship in Washington and says she will be able to bridge the divide. Voting rights, education and healthcare are among her top issues.
Johnson describes himself as a "politician who listens more than he talks." He is a lawyer who has lived in the district his entire life (outside of his time in education). He touts his dedication to women's rights, healthcare and protection of Dreamers among his top campaign priorities.
In Congressional District 6, Jana Lynne Sanchez and Ruby Faye Wooldridge are engaged in a runoff to see who will compete for the seat vacated by Joe Barton.
Sanchez has a background in journalism and entrepreneurship. A self-described problem-solver, she said she originally had no aspiration toward politics but that the country is in dire need of leadership. Her four-point platform covers issues ranging from renewable energy to strong national defense.
Wooldridge is a minister and former counselor. As a divorced grandmother she says she can relate to many of the challenges in her district. She has extensive political support experience and is focused on the economy, education and healthcare.
The race in Congressional District 32 has Colin Allred facing off against Lillian Salerno for the opportunity to move onto the general election ballot.
Allred is a former NFL football player and a civil rights attorney. He describes a career-ending neck injury as a door-opening opportunity to pursue his dream of studying law and serving the community. He worked for Obama in HUD before returning home as a voting rights attorney and political counsel.
Salerno is a native Texan, entrepreneur and attorney. She is an advocate for the protection of healthcare workers, having written and passed legislation in that area. She also served as the Deputy Undersecretary for Rural Development during the Obama administration.
There is an open seat in Texas House District 109 due to the retirement of Rep. Helen Giddings, and a clear path to the office after the primaries as there is no GOP challenger waiting in the general election. Carl Sherman and DeShaundra Lockhart Jones are vying for the spot.
Sherman was the first African American mayor of DeSoto after serving as a councilperson. He also has experience as a city manager and is currently a minister as well. He has served on numerous boards and charitable organizations. Public school finance, smart growth and affordable healthcare top his agenda.
Lockhart Jones is a recent DeSoto city councilperson. Business owner and has lived in the district for more than 40 years. She has sat on the board of directors for four corporations, among numerous other civic positions. Her top issues are housing, healthcare for an aging population and education.
There are four local judicial races going to runoffs, beginning with the 68th District Court where incumbent Martin Hoffman faces a challenge from Kim Brown.
Hoffman has been elected to the position three times, beginning in 2006. Prior to taking office he worked as an attorney for 13 years.
Brown grew up in Oak Cliff and is the daughter of a retired Dallas Police Officer. She has been practicing law for more than 20 years and has served as a visiting judge in Dallas County.
In the 193rd District Court, incumbent Carl Ginsberg is facing a challenge from Bridgett Whitmore.
Ginsberg has been on the bench since 2007.He was a civil attorney in private practice from 1996 until the election of 2006. He is a Texas board-certified attorney.
Whitmore is a native of Dallas and graduated from Yale in 1995 before going to Tulane for her law degree in 1998. She has experience as both a private lawyer and assistant district attorney.
In Dallas County Court-at-Law No. 4, incumbent Ken Tapscott faces Paula Rosales in the primary runoff.
Tapscott was elected to the bench in 2006 and has been re-elected twice. He has more than 21 years as a civil attorney and was the 2017 "Elected Official of the Year" for the Dallas County Democratic Party.
Rosales is an attorney with experience across five areas of law; and has lived in three countries, speaking three languages fluently. She held the advantage in the first round of voting, but didn't get a majority.
 In the Dallas County Court of Criminal Appeals No. 2, Pamela Luther and Marilynn Mayse are in a runoff to see who will be unopposed in the general election.
Luther has worked as an attorney on both a prosecutor and a defense attorney. She received the highest number of votes in the first round of voting but did not win a majority.
Mayse is on her second try for judgeship having competed in 2016. She has 23 years of felony court experience following 11 years of military service.
In the Democratic primary for the Texas State Board of Education, District 12, Suzanne Smith garnered less than 50 percent of the vote, technically facing a runoff challenge from Laura Malone-Smith. However, Smith reported on Facebook that her challenger had filed paperwork to withdraw and conceded the runoff race, leaving Smith a clear path to face the Republican challenger in November.