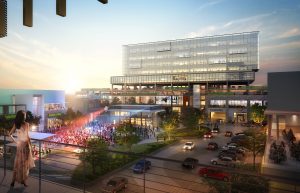 Irving Taxpayers Matter, an Irving-based 501(c)(4) nonprofit corporation organized for social welfare purposes, including a particular emphasis on oversight of taxes collected by the taxing authority over the citizens and businesses of Irving, Texas. The organization filed a lawsuit this week to stop the payment of millions of dollars in TIF money by the City of Irving to ARK Group of Irving.
In 2015, the City of Irving, Texas and ARK Group of Irving, Inc. entered into agreements to design and construct an Entertainment Center, which includes the popular Toyota Music Factory. As part of this project, Irving established a TIF District, which could potentially result in the payment of $44,000,000 in tax monies to ARK. Irving Taxpayers Matter filed suit this week to stop the City of Irving from wrongfully paying the tax funds. Based, among other things, on allegedly fraudulent activities engaged in by ARK to meet deadlines to obtain certificates of occupancy required to qualify for the TIF money; and, instead, to use the funds to fix the problems ARK created through its fraudulent conduct.
The suit states, "In order to meet deadlines for obtaining $44,000,000 of TIF monies for the construction of an Entertainment Center in Irving, which includes the popular Toyota Music Factory, ARK has defrauded the taxpayers of the City of Irving by installing substandard toilets, sinks, counters and other fixtures in order to obtain approvals from the City and certificates of occupancy, and then ripping the fixtures out afterwards."
The suit also alleges that "ARK failed to build the Plaza and the Parking Facilities as required by the governing agreements." The agreements required ARK to construct an open-air Plaza of approximately 50,000 square feet that will be utilized for outdoor festivals, concerts, and other events and will contain a minimum of two outdoor stages. Instead, ARK constructed the Plaza to be only 27,000 square feet, not the 50,000 square feet required by the agreements. Also, the layout of the Plaza is bisected, such that the Plaza cannot be used for many of the functions that were intended to be held there. For example, in the Texas heat, the shade is essential for the use of the Plaza during many months of the year. Because of the configuration of the Plaza ARK built, a huge canopy that was intended to cover the Plaza and provide essential shade, cannot be constructed. Also, instead of constructing the parking facilities to allow for events requiring up to 1,200 parking spaces, ARK carved out 580 of the parking spaces for the use of one tenant only.
The suit filed in Dallas by Larry Friedman, attorney for Irving Taxpayers Matter, is the vehicle to "enjoin the City of Irving from paying over the $44,000,000 of TIF monies so that these funds can be used to fix the problems and defects resulting from ARK's fraud."
The suit alleges that "the City of Irving's approval of ARK's work under the circumstances is also fraudulent, and the result of arbitrary decisions and abuse of its discretionary powers at the City. Irving intends to reimburse approximately $44,000,000.00 of taxpayer funds to ARK even though ARK has failed to fulfill the requirements of the agreements. Once the TIF Money is paid, there will be no opportunity for the taxpayers of Irving to recoup these funds."