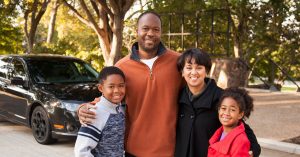 By Rachel Hawkins NDG Staff Writer
On The Road Lending (OTRL) helps families get from one destination to another by lightening the financial burden of purchasing a vehicle. After researching program structures, funding models and options currently available nationwide, OTLR was born in 2013.
The idea began with Michelle Corson OTRL's founder, desiring to have more of an impact in the community besides merely writing a check. She was searching for innovative solutions and looked around the community, seeing many wonderful programs providing services. However, a recurring issue always came up in her research – transportation. It did not matter what programs and services were available if the people it was designed to serve could not get there.
OTRL has helped more than 200 families statewide and provided more than $3 million in loan capital to clients. These families would otherwise not be able to receive such affordable loans, based on their current credit history.
"Our program offers families and individuals a second chance when it comes to getting into an affordable and reliable vehicle," Shaylon Scott, the Program Outreach Coordinator for On the Road Lending said.
Financial education is a crucial component of the program.
"With our vehicle selection assistance and long-term financial mentoring we help to address a little understood, but substantial problem—providing a way for low-income individuals and families to overcome transportation barriers so they can get to work, lead healthier lives, and avoid predatory lending."
This program helps families and individuals get affordable and reliable transportation not based on their credit score, but based on their character and making positive choices going forward in their lives.
"For myself, working with OTRL allows me to continue to give back to an organization that helped me when I was in need," Scott said. "I am a former client of the program that went through a tough divorce and had to start my life over. When I encountered OTRL, they not only helped me maintain the stability in my life at a difficult time but also how to overcome the huge financial barriers that a lot of single mothers and divorcees face.
"When they helped my family I was so moved to volunteer for them in any way that I could and continued to be an advocate for the program until 2016 when they hired me to do so full time," Scott said. "Now I am able to share my story and ensure our families that they are not their credit score and that they can get out of the vicious cycle of poverty and debt."
OTRL relies on learning about a client's cash flow, circumstances, motivation and desire to improve their current situation to get them qualified for an affordable loan. Their vehicle selection specialists consider their budget, vehicle use, and family size, and then work with their community of car dealerships to find them a reliable car under warranty.
They have partnerships with a community of car dealerships to help us find a reliable car under warranty. Once the client selects an approved dealership, OTRL ensures they understand how the program works.
After the family receives their car, OTRL continues to provide support and advocate for the families throughout the life of their loan. The objective is to help the client to improve their credit and financial position while assisting them to get back on the road to economic mobility.
For people who are not ready for the regular Mobility Program, OTRL offers the KEY program. The Keys to Empowering Yourself Program is a provisional transportation collaboration offering temporary vehicles and intensive financial coaching while these clients find employment, gain job stability and financial skills. They are also working to accumulate savings. The KEY cars are slightly older and higher mileage than the typical vehicles in the other program.
"Our network of community partners asked us to find a transportation solution for their most vulnerable clients taking their first steps toward financial stability," Scott said. "This includes people looking for jobs, those without consistent employment history, victims fleeing domestic violence, individuals who have been recently incarcerated, and students. In other words, clients who may not have a positive history of paying bills due to their situation, stability at an employer or a residence."
Their lending arm also supports the KEY Program. The client now has access to a loan for a lower-tier vehicle for about 12 months while they work, to qualify for the Mobility Program. At that time, they will trade out of the older vehicle and into a newer car with less mileage.
For more information about the program, visit ontheroadlending.org.