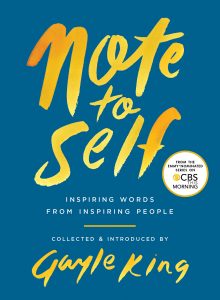 By Terri Schlichenmeyer
Listen up.
Pay attention. Eyes forward, ears open. You've heard those things before in your life, and now you say them to yourself, your kids, and your employees. But do they hear what you say now… or, as in the new book "Note to Self," collected and introduced by Gayle King, will your words ring back in the future?
When she was just nine years old, a classmate told Gayle King that she would be his slave, were it not for Lincoln.
Stunned, she ran home to tell her mother, who comforted her with words King still remembers – but it made King wonder what she, as the woman she is today, would tell that "skinny little nine-year-old girl…" if she could send her young self a message. In her Emmy-nominated series for CBS This Morning, she gives opportunities for others to do the similar.
Beginning with Oprah, King's best friend, there are words of comfort for a young woman who was dating the wrong man: "I use the word beautiful because… that's never a word you would call yourself."
Kermit the Frog admits that he's "green with envy" for the possibilities ahead for the frog he once was. Former Vice President Joe Biden advises his twelve-year-old self to look forward, because there's great adventure ahead. NFL player Ryan O'Callaghan advises his younger self to "Breathe." From Dr. Ruth, who was orphaned by the Nazis: "… your bravery will be rewarded."
Tyler Perry thanks his young self for thriving. Architect Frank Gehry says, "Once you find your passion… work your tail off…" John Lewis advises himself to always remember the words of Dr. King: "We must learn to live together as brothers or perish together as fools."
Surround yourself with those you love. Hug often. Examine your mistakes. Have fun. And remember that people can be "meaner or crueler or wetter or prettier… but they can't be more human than you."
If you could, would you become 18 years old again?
For most people, the answer is "yes," but only if they can take their knowledge back with them. It's a moot point, of course – you can't, and you can't – but "Note to Self" sets forth an intriguing exercise.
It also offers a chance for reflection on a sleepy summer afternoon, too. There's a good mix of inspiring, gracious and grateful tales inside this book, from those with stardom already in-pocket, to a few that may not be household names quite yet. Some of the tales are exactly what you'd expect, while others may surprise you with candor and reasoning. TV Host and story collector Gayle King explains how she received these stories and others like them; she then lays down a few rules, and leaves blank pages for readers' own Notes to Self.
This is not a difficult book to read. With its short, quick chapters, it practically begs to be browsed in office or commute, and it'll make a great grad gift. Truly, "Note to Self" is a book you'll pay attention to.