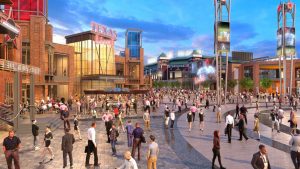 By Angela Loston, NDG Special Contributor
When Arlington's newest entertainment destination Texas Live! opens on Aug. 9, it will be a fun attraction for Dallas-Fort Worth residents and tourists. It will also be a testament to how the Texas Rangers, a large developer and Arlington involved minority contractors in working on a $250-million construction project.
"It has always been an expectation of development in the entertainment district [of Arlington], and Texas Live! is the first step in fulfilling that vision," said Rob Matwick, executive vice president of Business Operations for the Texas Rangers. "Most times people will come to baseball and football games, but not for other entertainment. Texas Live! gives us the opportunity to provide entertainment for all of North Texas and tourists alike."
Located between Globe Life Park and AT&T Stadium, Texas Live! is a mixed-use venue featuring restaurants, entertainment, hotel and convention facilities. The Cordish Companies, a Baltimore-based development firm, the Texas Rangers and the City of Arlington partnered to build Texas Live! Along with Texas Live!, the hotel Live! by Loews – Arlington, opens in 2019, and is being constructed by a joint-venture partnership with the Manhattan Construction Company and Con-Real. Described as a minority construction company, Con-Real also is a real estate, innovation and technology company. This partnership marks a significant milestone for Arlington as this is the first time a project of this magnitude has had a minority-owned business to serve as a joint-venture partner overseeing the project.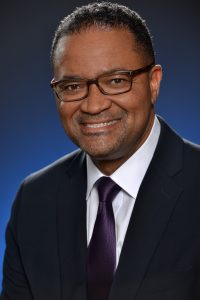 Since late October 2016, construction has been on-going for the 200,000 square foot dining and entertainment space. A variety of minority contractors have worked on the project. They were awarded contracts to handle insulation, material testing, plumbing, heating and other work. Zed Smith, the chief operating officer of The Cordish Companies, shared a few of the major minority contractors included:
EJ Smith Construction, a large minority contractor which provided structural concrete for the project;
TinMan Enterprises, an African American, woman-owned company which was a material supplier for the project;
VIVA Railings, an Asian American contractor that provided railings for the project; and
Smith Interiors Construction, an African American-owned company which did finished carpentry for the project.
According to Smith, the minority goal participation for the Texas Live! project was 25 percent, but The Cordish Companies exceeded the benchmark by securing 30 percent minority involvement on the project. He said approximately 25 percent of the total number of minority contractors were African American. More than $13 million was spent with local minority contractors for the project.
"We tried to cast a wide enough net to ensure that a large number of small businesses and minority businesses knew about the project and knew how to participate in contracting with us on the project," Smith said.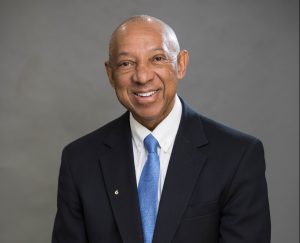 Gerald Alley, president and CEO of Con-Real, said working with the city, Cordish and the Texas Rangers was a positive experience. Alley believes Cordish and the project leadership's desire to be engaged with the community while building Texas Live! can stand as a model for other cities to use when building major construction jobs similar to this one. Alley shared his company was selected as a prime contractor to build the conference center for Texas Live!, which will open in 2019.
"Sometimes cities and private firms tend to measure the success of a project on the brick and mortar that is built rather than their interaction with the community," Alley said. "By focusing on the impact of the community, their projects will be more sustainable over the years because the community would be stakeholders in the investment of the success of the project."
Smith said The Cordish Companies relied heavily on Con-Real and the Manhattan Construction Company to choose the subcontractors and minority contractors for the project. The Cordish Companies also hired DLB Consultants, a Dallas-based, business development, consulting firm, to help facilitate and handle outreach efforts with the local minority contractors. The consulting firm hosted several events to provide more information on the project and encourage contractors to submit bids on the job and invited thousands of contractors to pre-bid meetings.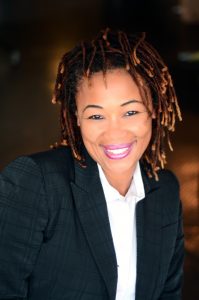 Demetria Bivens, president of DLB Consultants and the Minority and Women Business Enterprises (M/WBE) consultant for the Texas Live! project, hosted an event, the Project Overview/Briefing for Local M/WBE Businesses, in early January 2017 at Globe Life Park. Contractors were pre-qualified to ensure they had the experience and resources to perform tasks associated with the construction phase.
Before construction, The Cordish Companies formed the Community Advisory Committee, a group of city, community and industry leaders within Arlington and Tarrant County, to advise and assist Cordish with its community development initiative which they use on the development of national projects. Part of the effort was not only engaging with minority contractors but also to help with hiring a diverse workforce. They also offered internships and apprenticeships for residents.
"Fundamentally, we've taken the position that as we work on projects across the country, we have a responsibility to ensure that local and small minority businesses have an opportunity to participate on our developments," Smith said.
Bivens said more than 25 individuals served as members of the Community Advisory Committee and helped to spread the word about contracting opportunities for minority and small business owners. They included leadership from the City of Arlington, the University of Texas at Arlington, the Arlington chapter of the NAACP, Arlington Black Chamber of Commerce and other groups.
According to Cordish, Texas Live! has brought 2,000 new construction jobs to Arlington and Tarrant County and will bring 1,025 permanent jobs once it opens. The Cordish Companies is forecasting the new entertainment site will attract more than three million visitors annually to Arlington, which already has 14 million yearly visitors. Texas Live! will open with a grand opening celebration scheduled for Aug. 9-12.
For more information on Texas Live!, visit texas-live.com.