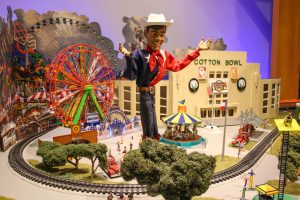 Arlington
Texas Taco Festival will take place on Nov. 17 from 1 p.m. to 7 p.m. at Texas Live, in Arlington. Taco lovers can taste more than 75 kinds of tacos ($3 each) from restaurants and food vendors plus take part in taco-inspired events. The day includes live music, eating and costume contests, lawn games, a kids zone, mechanical bull and football on the big TVs. Thirsty? Bars and beverage stations will serve margaritas, tequila flights, beer and soda. General admission is $10 (advance) and includes a complimentary drink. Free for children 10 and younger (no ticket required). Free parking.
Dallas
The Leake Collector Car Auction will take place on Nov. 16 and Nov. 17 from 9 a.m. to 5 p.m. at the Dallas Market Hall, in Dallas. 450 cars will cross the auction block at the annual Dallas Leake Collector Car Auction. Featured cars include 1969 Shelby GT500 Fastback,1968 Chevrolet Corvette L88, 1962 Chevrolet Corvette Fuel Injected, 2005 Ford GT, 1948 Lincoln Continental Cabriolet, 1969 Plymouth Road Runner Convertible, 1958 Cadillac Eldorado Biarritz Convertible and 1960 Mercedes-Benz 190SL Convertible. Admission is $20 for adults, $15 for seniors and military with ID, $7 for kids 6-12. Check leake.com for auction start times, docket and additional information.
The Trains at Northpark will occur on Nov. 17 from 10 a.m. to 9 p.m. at NorthPark Center, in Dallas. View miniature toy trains rolling through holiday-themed cityscapes at the annual Trains at Northpark attraction, benefiting the Ronald McDonald House of Dallas. The trains cross 1,800 feet of track in a journey across America passing popular spots including New York City's Times Square, the White House, the Grand Canyon, Albuquerque's hot air balloons, and several Dallas landmarks such as the State Fair of Texas, the Cotton Bowl and the Margaret Hunt Hill Bridge. The display is on view on Level Two between Neiman Marcus and Nordstrom's from Nov. 17-Jan. 6, 2019 (except on Thanksgiving and Christmas; closing at 4 p.m. on Christmas Eve and New Year's Eve, 6 p.m. on New Year's Day). Tickets are $7 for adults, $4 for children and seniors. For more information visit http://www.thetrainsatnorthpark.com/.
Garland
17th annual motorcops for kids toy run hosted by Dallas Harley-Davidson of Garland will be held on Nov. 18, 10 a.m. to 1:30 p.m. at 1334 W Centerville Rd, in Garland. The toy run is an annual event held on the third Sunday of every November. The motorcycle parade leaves from Dallas Harley-Davidson and culminates at the Hella Shrine Temple in Garland. MotorCops for Kids is escorted by members of the Garland and Grand Prairie Police Department's Traffic Unit and safety is the number one priority. MotorCops for Kids hosts many activities in addition to the parade, including numerous door prizes, a silent auction, food, live music, and slow ride and obstacle course competitions for all riders and all motorcycle classes. The dedicated support of the bikers has enabled MotorCops for Kids to help the Shriner's Hospitals and kids at Christmas and evolve into one of the largest and most unique toy runs in the State of Texas and across the nation.
Grand Prairie
So You Think You Can Dance Live! 2018 will take place on Nov. 20 starting at 7:30 p.m. at Theatre at Grand Prairie. The 15-time Emmy Award-winning show commences another tour around the U.S. this fall. The live show will feature the Top 10 contestants from Season 15, including Jensen Arnold, Hannahlei Cabanilla, Genessy Castillo, Evan DeBenedetto, Jay Jay Dixonbey, Magdalena Fialek, Darius Hickman, Chelsea Hough, Cole Mills, and Slavik Pustovoytov. Tickets start at $35. For more information and to purchase tickets visit https://www.axs.com/events/359536/so-you-think-you-can-dance-live-2018-tickets.
Irving
The Heritage Thanksgiving Celebration will be held on Nov. 16 from 10 a.m. to 12 p.m. at Heritage Senior Center, in Irving. Heritage members are invited to celebrate Thanksgiving with a morning of festive folk music followed by a traditional holiday lunch. Please register by 5 p.m. Nov. 12. Cost: $6.25 for members ages 59 and younger; suggested $1 donation for those ages 60 and older. For more information contact (972) 721-2496.
Thanksgiving Break Camp will take place on Nov. 19 from 7:30 a.m. to 6 p.m. at various recreation centers, in Irving. City recreation centers will offer a holiday camp for children in grades K-5 on Nov. 19-21. A variety of activities will be offered in a fun and safe environment, including arts and crafts, gym games, field trips and more. Campers are asked to bring a sack lunch each day, but are provided with morning and afternoon snack. Cost is $60 per child. Registration begins Nov. 1 and is available online at https://apm.activecommunities.com/irvingrec or in person at your neighborhood recreation center. Spaces are limited. A valid IPAR ID card is required to register.
Lewisville
RISE Holiday Bazaar will take place on Nov. 17 from 9 a.m. to 4 p.m. at Hilton Garden Inn, Lewisville. As part of its Festival of Trees and Lights, RISE, nonprofit facilitating adaptive sporting events for people with disabilities, will hold a holiday bazaar with dozens of craft vendors, children's craft stations, visits with Santa and trees decorated by RISE participants. Admission of $5 will help support RISE's programs. For more information visit http://www.riseadaptivesports.org/wp/th_event/festival-of-trees-lights/.
Richardson
The Dallas Comic Show Holiday Show will premiere on Nov. 17 and Nov. 18 starting at 11 a.m. at Richardson Civic Center, in Richardson. The Dallas Comic Show returns to the Richardson Civic Center for a fun weekend filled with awesome guests and panels. Free parking, affordable admission, a great alternative to big box events that are sometimes too hectic for fans. Guests include Twin Peaks' Harry Goaz, Ray Wise and Sheryl Lee; Alan Ruck; Michael Biehn; Monica Rial; Frank Cho; Cary Nord; Sam de la Rosa; Mostafa Moussa; Vo Nguyen; Erik Reeves and more. Two-day passes are $25. Saturday tickets are $20. Tickets for Sunday only are $10. Children 6-12 are admitted for $5. Children younger than 6 are admitted for free. For more information visit http://www.dallascomicshow.com.