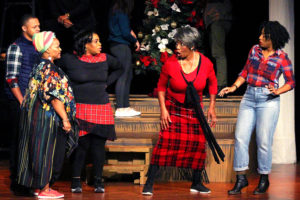 By David Wilfong, NDG Contributing Writer
Black Nativity is up and running at the Bishop Arts Theatre Center. The holiday gospel celebration by Langston Hughes has become a Christmas staple at the Oak Cliff stage, where it has been running for the past 15 years. The theater itself is celebrating 25 years this season.
The work revolves around a play-within-a-play and features a church congregation preparing for its annual Christmas show. As with any tightly-knit group, a church congregation will have issues and conflicts to resolve along the way. Dealing with these issues and making sure the "show will go on" makes up part of the storyline and performance.
The other part is the music and the choreography. This is not a passive performance. The vocal performing level is up this year, so much so that the standout moments trickled down into the ranks of the supporting cast members. Jammell Turner, portraying a disgruntled church deacon, and ensemble member Jeffrey Berry both delivered singing performances that brought exceptional appreciation from the audience.
Then there are the central characters. Myiesha J. Duff is an outstanding talent in the role of Dr. Narramore, and Brandon Wilhelm (portraying Narramore's husband) should be familiar to Bishop Arts crowds as this is his third season doing the production.
The music is great, with familiar tunes incorporated in original arrangements with a healthy dousing of choreography that's just downright fun. While there are some touchy subjects broached in the piece, it is generally suitable for all audiences. And it has been around at Bishop Arts long enough now to be added to the list of distinctive Dallas holiday traditions.
Black Nativity continues through Dec. 23 at the Bishop Arts Theatre Center in Oak Cliff. Dates, times and ticket info available at bishopartstheatre.org.