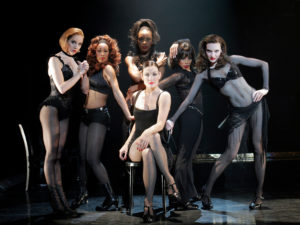 By Tiffany Gilbert, NDG Entertainment
Shopping and more shopping is probably at the top of your list as Christmas rapidly approaches. When you drop off your bags at home, there are plenty of entertainment choices throughout Dallas/Fort Worth to celebrate the holiday season.
Chicago is a winner!
"Murder, greed, corruption, violence, exploitation, adultery, treachery…"
What a night at the Winspear Opera House as Eddie George, former NFL superstar and Heisman Trophy winner, took the stage in the touring production of the longest running show on Broadway CHICAGO as the smooth-talking lawyer, Billy Flynn.
Alongside George Velma Kelly played by Terra C. MacLEOD and Roxie Hart played by Dylis Croman had us at the edge of our seats as two sexy murderesses fighting for attention and fame. The two were equally funny and demonstrated extensive vocal and emotional range to shine as Hart sings "Me and My Baby" and Kelly with "All That Jazz."
The powerful, brash, and commanding "Mama" Morton played by Jennifer Fouche clears up who's the top dog when she sings a potent "When You're Good to Mama" and solidifies her role.
CHICAGO is a testament to our insatiable craving for sex, crime, and fame. A very electrifying musical, you will not want to miss this show. On a scale from 1-10, I definitely give it a 10! (TG)
The show runs through Sunday, Dec. 23 and you can find tickets and showtimes at
attpac.org
.
Also for kids, and kid at heart theater lovers, the Dallas Children's Theater has two options.  
The Snowy Day and Other Stories by Ezra Jack Keats,
 which will run until January 20, 2019, and 
A Ghost Tale for Mr. Dickens 
which ends on Sunday. production ends on Dec. 23. Tickets and showtimes for both productions are available at 
dct.org
.
Also this week
Playboi Carti is scheduled to perform live at Gilleys in Dallas. He will hit the stage at the South Side Ballroom at Gilley's on Dec. 21. Doors open at 6 p.m. and the show starts at 7 p.m. Tickets on sale at topeventpromoter.com.
Don't miss out on Treats of Christmas benefiting the North Texas Food Bank on Dec. 22, from 10 a.m. to 6 p.m. level one between Macy's and Dillard's and level two between Nordstrom and Macy's, at NorthPark Center. Join NorthPark Center for the ultimate holiday bake sale benefiting the North Texas Food Bank. Presented by the Dallas Chapter of the Texas Chefs Association, dozens of premier chefs from area restaurants and catering companies provide an assortment of gourmet cakes, sweets, pies and cookies available for purchase.
Join America's Sweethearts for a one-day dance camp this holiday break at Holiday Youth Camp: DDC Dance Academy on Dec. 30, at  Ford Center at the Star in Frisco.  Join  Dallas Cowboys Cheerleaders Dance Academy for a one-day skills and drills camp. This is open to dancers ages 6-16. For more information and registration visit https://www.dallascowboys.com/fans/Youth-Academies.
A Bronx Tale opens on Dec. 26, from 7:30 p.m. to 9:30 p.m. at AT&T Performing Arts Center Winspear Opera House. Broadway's hit crowd-pleaser takes you to the stoops of the Bronx in the 1960s – where a young man is caught between the father he loves and the mob boss he'd love to be. Bursting with high-energy dance numbers and original doo-wop tunes from the songwriter of Beauty and the Beast, A BRONX TALE is an unforgettable story of loyalty and family. Tickets on sale now at attpac.org.