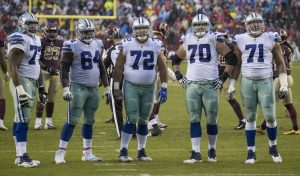 By Dwain Price, NDG Sports
FRISCO – That champagne that is expecting to be flowing whenever the Dallas Cowboys clinch the NFC East title will have to remain on ice for now. That's because the Cowboys had something happen to them on the road that no one thought could happen.
They got shutout, 23-0, by the Indianapolis Colts this past Sunday.
Making a slew of bonehead plays and simply getting out-played by the Colts, the Cowboys saw their five-game winning streak go up in flames as they were shutout for the first time since Nov. 16, 2003 when they were shutout by the New England Patriots, 12-0.
It was one of those no-show games by the Cowboys, who went into the game against the Colts as the NFL's hottest team. But they came out of it with their heads hung low.
"That was a very embarrassing performance by us," running back Ezekiel Elliott said. "We can't go out there and do that. We cannot.
"That is not us at all. That's embarrassing."
The embarrassing loss dropped the Cowboys' record to 8-6 and left them just one game ahead of the Philadelphia Eagles (7-7) and Washington Redskins (7-7) in the NFC East race. If the Cowboys win one of their remaining two games, or if the Eagles and Redskins each lose one of their remaining two games, the Cowboys will be crowned champions of the NFC East.
Sunday's loss was one of those "if anything could go wrong, it did go wrong" kind of days for the Cowboys. They simply couldn't put their right foot in front of their left foot without falling flat on their face.
"All the things that you do to lose a game, we did," said quarterback Dak Prescott, who was 24-of-39 for 206 yards and an interception. "The way we didn't give ourselves a chance just pisses me off — pisses everybody off.
"We knew what was on the line. It's been on the line. It'll be on the line next week, so we've got to go and get better."
The Colts schematically took away wide receiver Amari Copper and made the other Cowboys receivers try and beat them. Cooper, who has been shredding defenses for over a month since coming to the Cowboys in a trade with the Oakland Raiders, was limited to just four catches for 32 yards.
Cooper, however, knows the Cowboys must show what they're made of when they host the Tampa Bay Bucs on Sunday at noon at AT&T Stadium.
"You have to be a resilient football team if you want to be a good football team," Cooper said. "You have to know how to deal with adversity, and we didn't really show that we know how to handle that (Sunday)."
Ironically, some of the Cowboys were saying that this loss may be a blessing in disguise after they went through a challenging stretch of games that included two emotional wins over the Eagles, a huge victory over the red-hot New Orleans Saints, and wins over Atlanta and the Redskins.
"That win streak had us feeling like we were bigger than what we are," defensive end DeMarcus Lawrence said. "This game right here was just a game to show us that we got to get back to the basics and keep working.
"When you're on a winning streak you'll think you're better than what you are until somebody kind of hit you in your mouth. I'm glad we got hit in the mouth (Sunday). I can't wait to hit our next opponent in the mouth."
Even Elliott was somewhat docile in defeat.
"A loss like this was very much needed," said Elliott, who rushed 18 times for 87 yards. "I think it's better for us in the grand scheme of the season.
"I think we needed to get put in check. I think we needed a reality check."
But a shutout?
"The shutout definitely hurts, the shutout pisses you off," Prescott said. "Especially when you're down there and you're down there in the red zone and you have an opportunity to score and you don't."
After the Colts blocked Brett Maher's 48-yard field goal on the Cowboys' opening drive, and on their ensuing possession turned it into a 1-yard touchdown dash by Marlon Mack, Dallas marched right back down the field and reached the Colts' 3-yard line.
But on third-and-1, fullback Jamize Olawale dropped an easy TD pass from Prescott. And on fourth-and-1 from the 3, Elliott was trapped and lost the ball on the Indianapolis' 5-yard line.
"Playing behind the chains, penalties, sacks, whatever it may be – incompletions — we just hurt ourselves from the beginning all the way to the end," Prescott said. "I don't know if we thought we were too hot to trot during our five-game winning streak, but we simply got beat in every facet of the game."
The Cowboys also were penalized nine times for 74 yards, and many of them came at crucial times of the game.
"Obviously a lot of different times in the ballgame when we got behind the chains on offense, or when we made a conversion, it seemed like it came back because of a penalty," coach Jason Garrett said. "When we got off the field on defense it seemed like it came back because of a penalty.
"Those things will come back and haunt you."
The Cowboys just hope they don't get spooked when they host the Bucs on Sunday in a game where, afterwards, they anticipate the champagne will be flowing in the locker room.