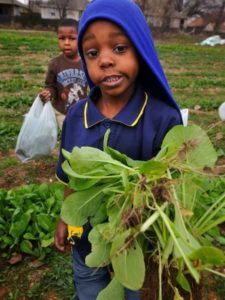 Last month, as the world paused to commemorate the centennial of World War I, the pastor and members of the New Mount Rose Missionary Baptist Church in Fort Worth shared a special announcement. A charter was granted for the establishment of the first 4-H Club in the nation named in honor of the legendary Buffalo Soldiers of the United States.

"This is yet another fantastic way for us to keep the legacy of the Buffalo Soldiers alive while continuing to train, educate and develop the next generation of strong leaders within our community," says, Pastor K.P. Tatum, Sr., of New Mount Rose.
By teaming up with Prairie View A&M University Extension and Texas A&M University AgriLife Extension in Tarrant County, leaders of the new club plan to introduce urban youth to a new world of STEM opportunities and leadership skills development.
Housed in the heart of the 76104 food desert, the new Buffalo Soldiers 4-H STEM Club will seek partnership with many stakeholders across the city, county, state, and country. This will include working with the Tarrant County Sheriff's Department, Texas Buffalo Soldiers Association, Texas Parks and Wildlife Buffalo Soldiers Program, USDA, and land-grant colleges and universities across the nation.
"We are committed to rearing our own to succeed and the new Buffalo Soldiers 4-H STEM Club will open up doors for our brilliant students and their families living in the inner city of Fort Worth, Texas. We are excited about the possibilities," Pastor Tatum said.
According to the 4-H website, "4‑H serves youth in rural, urban, and suburban communities in every state across the nation. 4‑H'ers are tackling the nation's top issues, from global food security, climate change and sustainable energy to childhood obesity and food safety.  4‑H out-of-school programming, in-school enrichment programs, clubs, and camps also offer a wide variety of STEM opportunities – from agricultural and animal sciences to rocketry, robotics, environmental protection and computer science – to improve the nation's ability to compete in key scientific fields and take on the leading challenges of the 21st century."
The Buffalo Soldiers 4H Club currently enrolls more than 15 students. Their goal is to reach out to more 100 students from urban inner-city neighborhoods in Fort Worth.
For more information on how you can become a member or sponsor of the new New Mount Rose Buffalo Soldiers 4-H STEM Club, contact Pastor Tatum at 817-966-7625 or email: newmountrosefw@gmail.com.
All contributions to New Mount Rose are tax-deductible.