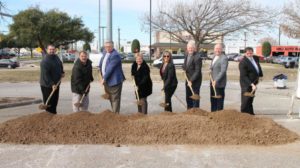 Throughout the Dallas and surrounding cities the community is invited to events hosted by their local cities celebrating progress with projects or entertainment and family activities. Below is an update on recent events hosted and those planned for this week. 
Dallas
Rainbow Vomit is here to stay until Feb. 16, from 10 a.m. to 5 p.m. at Rainbow Vomit in Fair Park, in Dallas. Rainbow Vomit, a technicolor interactive art adventure, immerses guests in art, light and sound reminiscent of a journey into the fantasy of flight. A 2,600-square foot space across from Fair Park has been customized for an extraordinary experience with more than 20 unique photo opportunities, massive touchable elements and awesome Instagramable visuals that are designed for all ages. From superheroes to unicorns, guests will experience the beauty of the rainbow as it bursts from the seams of a comic-strip gone haywire, hence "Rainbow Vomit." For tickets visit http://rainbowvomit.com/.
Enjoy the last month of Penguin Days until Feb. 28, from 9 a.m. to 4 p.m. at the Dallas Zoo, in Dallas. At the zoo, winter means the temperature is dropping – and so are the prices. Visit the African penguins along with all your other animal friends during the Penguin Days promotion, which offers a daily discounted admission price of $8. Visitors can warm up in the indoor learning areas including the Herpetarium, Bug U!, the Jake L. Hamon Gorilla Conservation Research Station, the Highland Hippo Hut and the Simmons Safari Base Camp. For tickets visit https://www.dallaszoo.com/exhibits-experiences/penguin-days/.
Garland
Garland and Dallas County Celebrate Major Project: A prime Garland location is about to undergo a major transformation. A groundbreaking ceremony was held Thursday, Jan. 24, to officially kick off the Shiloh Road Improvement Project, a $24 million partnership project between the City of Garland and Dallas County.

Shiloh Road between Kingsley Road and McCree Road/South Garland Avenue is one of the busiest intersections in Garland. More than 75,000 vehicles travel the area off Interstate 635 every day. This important infrastructure and transportation project is expected to not only alleviate congestion but also serve as a catalyst for development of the old Hypermart site.
The Shiloh Road project will result in various traffic flow changes and disruptions. Subscribe to the City's road construction e-newsletter, Street Talk, for regular updates. Visit GarlandTX.gov, click on the E-news link at the top of the page and select General City E-news.

The Shiloh Road Improvement Project is expected to be completed in June 2021. 
Irving
Wizards, Witches and Muggles are invited to Harry Potter Book Night on Feb. 7, starting at 4:30 p.m. at all four library branches, in Irving. It's been more than 20 years since "Harry Potter and the Sorcerer's Stone" was first published. Now, with seven books, eight movies, Broadway plays and a theme park, Harry Potter has become one of the most popular and beloved book series of all time. They will host a class, themed with classes held at Hogwarts. The Care of Magical Creatures will be held at 4:30 p.m. at East Branch Library. Potions at 5 p.m. at South Irving Library. Defense Against the Dark Arts at 6 p.m, and Charms at 7 p.m. at Valley Ranch Library. For more information visit the CityofIrving.org.
Richardson 
Mayor Paul Voelker presented the annual State of the City Address Wednesday evening at the Eisemann Center. The address focused on the City's most significant achievements in 2018, wrapped in a theme of "Richardson's Value Proposition." Videos featuring the Mayor and City Council members enhanced the address, and special guests/community leaders who have helped in the City's success were recognized.
Among the past year's accomplishments highlighted were:
Funding was secured for the DART Cotton Belt Rail Project, which will connect Richardson to Addison and DFW Airport via rail and include a fifth station for the city, to be located at UT Dallas.
The Richardson East Rotary Club raised more than $500,000 toward the Ann Eisemann Inclusive Playground at Cottonwood Park, enabling the construction to begin this year and including several enhancements to the original plans.
In the past five years the City replaced or repaired 49 miles of roads, 35 miles of sidewalks and nearly 10 miles of alleys. These numbers include the seven miles of roads, 1.7 miles of alleys and six miles of sidewalks that were done in Fiscal 2017-18.
Homeowners completed 143 Home Improvement Incentive Program projects, adding more than $20 million in neighborhood reinvestment.
Fox Creek Park opened, the City's 38th park, and a new perimeter trail at the Spring Creek Nature Area was completed; four-and-a-half miles of bike lanes were added throughout the city.
The event was free, open to the public and broadcast live. State of the City will be replayed on Spectrum Channel 16 and AT&T U-Verse Channel 99, 2 p.m. Tuesdays and Thursdays and 6 p.m. Saturdays through Feb. 28. Videos of the event are also available on demand at www.cor.net/stateofthecity.