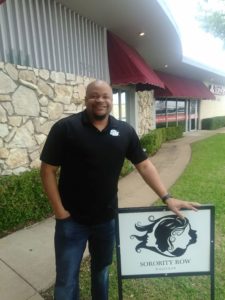 By Angela Loston, NDG Contributing Writer
Fashion has always been a passion for Joe Temple. Since his high school days, he was fascinated with fashion—having a desire to be thrust in a world of buying, selling and designing clothing. He has taken that dream from his youth and cultivated it into a business he owns today creating designs for historic African-American Greek organizations as the chairman, president and head of product development of RG Apparel Co., located at 2912 N. MacArthur #110 in Irving, Texas.
"People have a hard time finding black Greek apparel in DFW," Temple said. "That's why we decided to open up the store to capture the DFW market so that we can be that premiere destination for Greek accessories."
Since 2006, Temple owned RG Apparel creating scarves, blazers, luggage, footwear, and other apparel. He came up with the idea of running an online Greek apparel store between 2004 and 2005 after seeing there was a need to sell clothing for African-American fraternities and sororities.
In the beginning, his company was called Real Greek Apparel. The company's name changed to RG Apparel Co. in 2013. For the first 12 years, all merchandise was sold online which also included collegiate and military accessories. Eventually, Temple phased out these product lines to keep the focus more on Greek apparel.
Along with eliminating the collegiate and military items, Temple stopped selling fraternal apparel five years ago since sorority items were more profitable. In 2018, he opened Sorority Row Boutique in Irving to sell clothing for all of the four Divine Nine sororities. Temple still sells blazers online for new members of the Alpha Phi Alpha fraternity per an agreement he has with the group.
"We think it's a huge niche market here," Temple said. "More than 5,000 sorority members are here in the metroplex amongst all of the four sororities. That's a lot of foot traffic."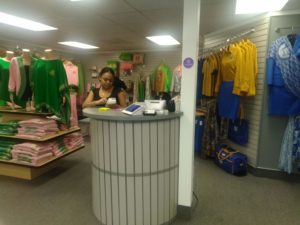 During the first eight years of his company, Temple said he designed all of the apparel, but in the last three to four years, he has partnered with contract designers to come up with designs and new collections for each season. All designs are done in-house with the products manufactured overseas.
"A lot of the Greek sororities' and fraternities' apparel have been the same, traditional wear," he said. "I try to develop more professional wear, more practical products."
To keep abreast of the latest styles, Temple said he travels overseas to Italy and France frequently to see what styles will be in for the upcoming year since Europe sets the trend for what's to come to America in the next year or so. He also attends "The Magic Show," a fashion show held in Las Vegas, to see what industry designers will deem as fashionable in the fall during its spring show and what will be popular next spring during the show's fall showcase. Lastly, he works with a team of contract designers who can give him insight on next season's latest fashions since they also work for high-end brands.
"We like to consider ourselves trendsetters," Temple said. "We design our own things that we think are going to be a huge success. We take lots of chances on first-to-market things that we create in-house."
Most of his customer base are graduate chapter members with 70 percent of them between 35 and 55 years old. Core products for Temple's store include blazers, button-up shirts, scarves, and luggage—his most popular item. This summer, sorority-themed jewelry will be added to the Sorority Row Boutique collection for customers.
"We have a brick and mortar store where our customers can touch and feel our merchandise," Temple said. "If you want to try on a blazer or a shoe, you can do so at our store."
Getting the word out about RG Apparel Inc. has been easy for Temple thanks to social media and the Internet. He said advertising on Google has led to his store's success, and a presence on both Facebook and Instagram have helped to garner him exposure for his business.
In the next three to four months, Temple said he plans to add 1,000 square feet to Sorority Row Boutique's 1,300 square-foot space. He also is eyeing the possibility of opening six to seven stores across the country in the future. To learn more about Sorority Row Boutique or RG Apparel, please visit rgapparel.com or call 214-441-3414.
"We welcome everyone to come to Sorority Row and enjoy the shopping experience," Temple said.
Editor's note: story updated to include physical address and to correct the number of sorority members from 500,000 to 5,000.