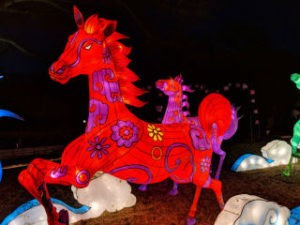 Since Mother's Day is coming up, many people are looking for things to do this weekend. Well, we have colorful lights in the Fort Worth garden, the annual AT&T Byron Nelson in Dallas, concerts and more!
The 2019 AT&T Byron Nelson will return from May 9 to May 12, at Trinity Forest Golf Course, in Dallas. Hosted by the Salesmanship Club of Dallas, the Bryon Nelson is one of North Texas' biggest sports attractions and most anticipated social events of the spring. Among this year's confirmed players are defending champ Aaron Wise, Jordan Spieth, Colleyville's Ryan Palmer and former Cowboys quarterback Tony Romo who has accepted a sponsor's exemption to play as an amateur. Now in its second year at the Trinity Forest Golf Club, Byron Nelson fans can find some of the most popular venues from years past including the air-conditioned Pavilion, Kids Zone and the Grey Goose 19th Hole. Daily grounds tickets are available for $45, with upgraded options beginning at $125. Tickets include complimentary shuttles from remote parking lots to the tournament's main entrance. For tickets visit http://www.attbyronnelson.org
View the Lanterns in the Garden from May 9 to May 12, at at Fort Worth Botanic Garden, in Fort Worth. Lantern festivals are a central part of Chinese culture that dates back thousands of years. Join us as this ancient tradition comes to the Fort Worth Botanic Garden; featuring lanterns crafted from silk, wire, and steel and an evening filled with fun, food and adventure. This event offers visitors the opportunity to experience an event rarely staged outside of Asia. $18, $8 for ages 3-15, free for children 2 and younger
BLINK-182 And Lil Wayne tickets will go on sale on Friday, May 10, at 12 p.m. at LiveNation.com. Multi-platinum, award winning artists blink-182 and Lil Wayne announced they'll be hitting the road together for the first time ever on a co-headlining tour across North America this summer. Special guest Neck Deep will join on all dates. Produced by Live Nation, the massive 38-city outing will kick off June 27th in Columbus, OH and make stops in Toronto, Atlanta, Houston, Los Angeles, and more before wrapping September 16th in Cincinnati, OH. The tour will see both artists playing indoors and outdoors in arenas and amphitheaters across the U.S. and Canada all summer long.
Enjoy the Urban Artist Market on May 10, from 6 p.m. to 9 p.m. at Addison Conference and Theatre Center, in Addison. The Urban Artist Market will feature regionally sourced art, sculpture, pottery, fiber art, jewelry, mosaic, stained glass, ceramics, painting, libations and desserts that are handcrafted and presented by the artisan community. Discover more than 69 unique one-of-a-kind artisan exhibitors and their creations. Chat with local artisans while touching, feeling, seeing and experiencing their mindful wares in person.
Yooouu've haaad the time of your liiiiiife… and you owe at least some of that to your mom. That woman carried you around in her womb like a watermelon, so the least you could do is take her out for a fun Mother's Day brunch full of classic tunes and swaying Swayze. Celebrate Mother's Day by watching Dirty Dancing, on May 12, at 11 a.m. at Alamo Drafthouse, in Irving. Enjoy the Mother's Day brunch by enjoying a meal, and watching one of the classics! The age policy is 18 and up for Alamo Drafthouse. Ages six and up will only be allowed with an adult, and under six will not be allowed in.