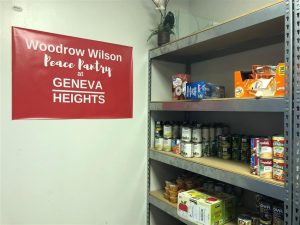 Coldwell Banker Residential Brokerage's Lakewood office will lead a month-long food drive to collect non-perishable food items to help stock the Dallas Independent School District's (DISD) Peace Pantries. Affiliated agents and staff will collect the items at open houses from Thursday, Aug. 1-31, to help provide meals and healthy snacks for students in need.
"Approximately over 130,000 DISD students face socioeconomically disadvantages, meaning that many of those students may not have access to three meals per day," said Nancy Wilson, branch manager of Coldwell Banker Residential Brokerage's Lakewood office. "I helped start the Peace Pantry at Woodrow Wilson High School and I know the impact it can have on a student to not have to worry about where their next meal may come from. As the new branch manager of the Lakewood office it's important to me and our agents that we be committed to supporting our community through acts of service."
Coldwell Banker Residential Brokerage will deliver the collected food items to the eight Peace Pantries throughout the DISD, located within the schools. The pantries are accessible to all students and families and do not require paperwork. Fully-funded by the community, the pantries also offer uniforms and toiletries.
In addition to collecting non-perishable items at open houses, the following business sponsors will collect food items in marked boxes at their business locations: Veritex Bank, Urbano, St. Petes Dancin' Marlin, Greenville Avenue Pizza Company, Trader Joes, Times Ten Wine Cellars, Tallulah, Franks Custom Signs, Blow Hair Salon and Texas State Movers.
For more information on the Peace Pantries visit, www.woodrowwildcats.org/peace-pantry.
There are currently 65 affiliated sales associated with Coldwell Banker Residential Brokerage's Lakewood office. The office is located at 6301 Gaston Ave Ste 125, Dallas and can be reached at 214-828-4300.