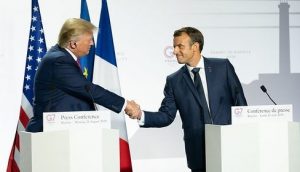 Straight Talk with Ed Gray
I have watched with growing alarm, life leaving out of the American body politic. President Donald Trump is killing American democracy, and our Congress is standing by idly. Congress must begin action today to protect our Constitution, not their political base, or their political strategies of flipping Congressional seats from red to blue.
The reality is that you can't impeach somebody because you don't like them. If that were the case, President Trump would not be in office. Popularity does not win elections, (the Electoral College does) and unpopularity does not get you out of office.
A bad economy combined with unpopularity does; it is as Sean Combs would say, "It's all about the Benjamins!"
Speaking of the Benjamins, that is what this presidency is to Donald Trump. It's an excellent opportunity for additional money for Donald Trump. He reminds me of the characters from the Wayans Brothers "In Living Color" skit always on the hustle to make more money.
Hustling for the Benjamins, like operating an expensive Bed and Breakfast for foreign visitors, perhaps you have heard of it, it is the Trump International located in Washington D.C.
If you want to cut a deal and get a meal, it's the place to be! United States District Court Judge, George Daniels ruled in December of 2017, that it was not illegal. That may be true, but it is not ethical either. However, what does ethics have to do with it?
Each weekend after work, Trump ditches the uncomfortable White House on 1600 Pennsylvania Avenue, for one of his numerous resorts on the East Coast. Nothing wrong with going home for the weekend. However, for each week's visit to a Trump Resort, the American taxpayers are billed.
Just this past week, fresh from being placed in time out, at the Group of Seven (G7) Conference in France, our President showed diplomacy. He showed his …. let's just say he showed diplomacy. He offered his Trump National Doral Resort in Miami, as the 2020 conference location for the international Group of Seven. That's awfully black of him, after all, President Trump would get paid for foreign dignitaries attending his resort.
In the United States Constitution, there is a clause that says national leaders cannot benefit from their position in the office; it is called the emoluments clause.
In our political marriage with President Donald Trump, emoluments must lead to annulments.
I am Ed Gray, and this is Straight Talk.
Ed Gray is a presidential scholar at Southern Methodist University. He is the host of The Commish Radio Show airing Saturdays 3-5 p.m. on FBRN.net, can be reached at eegray62@att.net. NDG was awarded NNPA's 2018 Robert S. Abbott Best Editorial for Gray's "Confederate Statues: The White Man's Burden" column.